Top 30 Albums of 2019
Updated by Andrea de Varona on July 19, 2020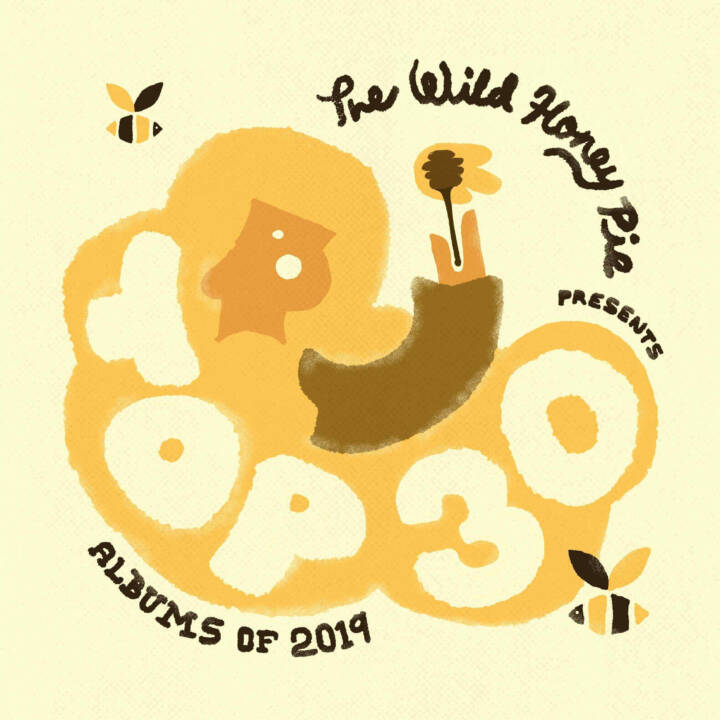 This year we were gifted with a variety of exhilarating albums that hit a wide array of moods, themes, and genres. Our favorite albums of 2019 lifted us and reflected what we were feeling on the inside: they made us dance, cry, laugh, and reminisce. Many of these records felt like a much-needed pat on the back after a long, unsteady year. They made us feel a little less alone and a lot more understood. It was challenging to narrow it down to just 30 this year, and we know there are several deserving artists that we left out. That being said, this list as it stands includes the albums we connected with the most this year here at The Wild Honey Pie.
It was a very big year for self-love, powerhouse vocals, and vibrant personalities. Our top four albums of the year were all by extremely talented, confident solo artist each at varying stages of their musical careers. The people's pop star of the year, Lizzo blessed us with her most brilliant album yet, Cuz I Love You, the fourth record on our list. Marking the artist's rise to global stardom, this masterpiece serves as a daily confidence boost and reminder to love yourself regardless of what society has taught you is good or bad, beautiful or ugly. Cuz I Love You proved the extent of Lizzo's musical abilities well beyond rapping, singing, and playing the flute. Speaking of internationally celebrated pop stars, Charli XCX, the self-proclaimed pop star of her generation, also had a very successful year with the release of her album Charli. The record solidified our undying love for her and landed at number three on our list. It reveals a side of Charli XCX most of us had never seen; she's vulnerable and open while still being her dancey, upbeat self. She also maintains her eclectic production style and robust sound palette as she collaborates with a number of recognized producers, singers, and songwriters.
One of The Wild Honey Pie's most beloved songwriters, Julia Jacklin, released her stunning sophomore album Crushing earlier this year. The Melbourne-bred artist truly poured her heart and soul out on this one, presenting a refreshing take on breakup albums in a year wrought with them. Jacklin calls us to stop and take a moment to access our current emotional states regardless of whether or not we're going through a breakup. She manages to turn a very specific emotional situation into a universal call for self-acceptance and vulnerability. Jacklin stands bare and defenseless before her grief and loss—a grief and loss that easily becomes our own. For this reason and countless more, Crushing was our number two album of the year. Alabama Shakes' frontperson, Brittany Howard also had an incredibly successful year with the release of her timeless and fiery debut album, Jaime. This stunning debut is all about openness, understanding, and feeling, and boy does Howard make us feel all the feelings. "Stay High," a standout track off the record is like fireworks and snow all at once; it's hot yet cool hitting all the colors and moods imaginable while remaining extremely coherent and uncomplicated. Howard has a way of making us access the deepest emotions in the simplest of ways, and that is just one of the many reasons Jaime is our number one album of the year.
Stream the full list directly on Spotify or Apple Music. Special thanks to Michael-Vincent Laviolett for the fabulous playlist cover.
30. SASAMI - SASAMI
29. Angel Olsen - All Mirrors
28. Vampire Weekend - Father of the Bride
27. Tyler, The Creator - IGOR
26. Angelo De Augustine - Tomb
25. James Blake - Assume Form
24. Maggie Rogers - Heard It In A Past Life
23. Mark Ronson - Late Night Feelings
22. Carly Rae Jepsen - Dedicated
21. Karen O, Danger Mouse - Lux Prima
20. Andrew Bird - My Finest Work Yet
19. Bedouine - Bird Songs of a Killjoy
18. Anderson .Paak - Ventura
17. Fruit Bats - Gold Past Life
16. Hand Habits - placeholder
15. Big Thief - Two Hands
14. Solange - When I Get Home
13. FKA twigs - MAGDALENE
12. Kevin Morby - Oh My God
11. King Princess - Cheap Queen
10. Faye Webster - Atlanta Millionaires Club
  9. Kishi Bashi - Omoiyari
  8. Lana Del Rey - Norman Fucking Rockwell!
  7. Sharon Van Etten - Remind Me Tomorrow
  6. Better Oblivion Community Center - Better Oblivion Community Center
  5. Drugdealer - Raw Honey
  4. Lizzo - Cuz I Love You
  3. Charli XCX - Charli
  2. Julia Jacklin - Crushing
  1. Brittany Howard - Jaime