20 Fave St. Vincent Songs
Updated by Maya Bouvier-Lyons on December 15, 2021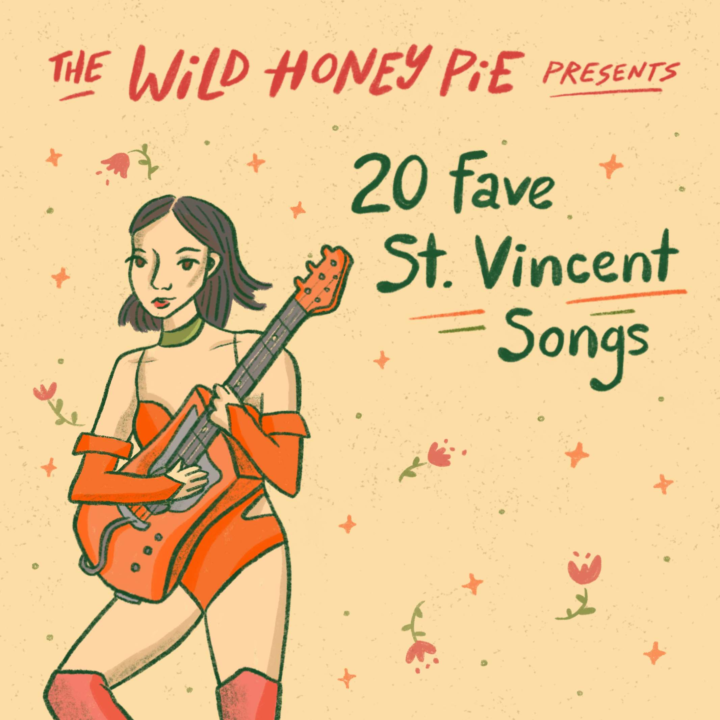 Over the course of five studio albums, Annie Clark—the artist known as St. Vincent—has given us a wide-ranging collection of music that transcends any conventional notion of rock as a genre. Throughout her electrifying fourteen-year discography, Clark has taken the unexpected, the incongruent, the sheer discomfort of an unprecedented sound, and alchemized it into symphonic poetry. There is method to the madness, an almost scientific logic to it that is matched by Clark's lyrics, full of symbolism and metaphor, musings on life and loss, at times hard to decipher but hard-hitting all the same.
While Strange Mercy may have been her breakthrough album, it was the self-titled St. Vincent that solidified her identity as a pillar of contemporary art rock. With teased-out platinum hair, a cape-clad Clark delivers what feels like a journey from death to rebirth, a guitar-heavy pseudo-spiritual awakening—tense and upbeat, slowing down only for moments like "Prince Johnny," an homage to a character first introduced in her debut album's title track, "Marry Me." MASSEDUCTION gave us another in "Happy Birthday, Johnny," a comedown following the banger second single off the album, "Los Ageless" (whose famous line "How could anybody have you and lose you and not lose their minds, too?" is all too relatable). On the album's lead single, "New York," Clark pulls back the St. Vincent veil, revealing some of her most personal and tender feelings of loss in the city she calls home.
While MASSEDUCTION was perhaps more Annie Clark than St. Vincent, her forthcoming sixth studio album, Daddy's Home, introduces us to a distinct new persona, clad in bell-bottom pantsuits with a blonde-banged wig, oversized sunglasses and—sometimes—an ornate blazer with "Daddy" embroidered on the back. The two singles we've heard so far—"Pay Your Way in Pain" and "Melting of the Sun"—each deliver the dependable dissonance that can be heard throughout Clark's discography, but with an added retro twist.
Through eerie whimsy on her breakthrough album Strange Mercy (2011), we heard references to her father's imprisonment in songs like "Cheerleader" ("I know honest thieves I call family") and most notably on the title track ("a father in exile for God only knows how many years"). Nearly a decade later, Daddy's Home is set to bring that story full-circle, both celebrating his release from prison and attempting to make sense of it all, while also enveloping us in the colors, moods and style choices of the Seventies.
The first two singles off the album—"Pay Your Way in Pain" and "Melting of the Sun"—each deliver the dependable dissonance that can be heard throughout Clark's discography, but with an added retro flair. The first might be called a theatrical exercise in electro-camp, the second a melancholic psychedelic ballad showcasing the background vocalists who dazzle many of the album's finest moments. "Down," the third single, allows a glimpse back to the Annie Clark of MASSEDUCTION, as she sings around a tight tempo set by synths and guitars—a metallic and hypnotic collage of sound.
It would be remiss not to mention MassEducation, a release of piano versions of the songs appearing on MASSEDUCTION. I had the immeasurable honor of experiencing these songs live at Jazz at Lincoln Center on Valentine's Day in 2019, accompanied on the small stage by pianist Thomas Bartlett, and armed with a box of "chocolates" with song titles written on scraps of paper in lieu of the candy, which Clark drew from to determine the setlist. She, of course, wavered from this structure at times, proving that, in the case of St. Vincent, even when you never know what you're going to get, you never know what you're going to get.
Words by Maya Bouvier-Lyons. Special thanks to Emma Baynes for this fantastic cover art.
20. "Slow Disco - piano version"

19. "Actor Out of Work"

18. "Now, Now"

17. "Strange Mercy"

16. "Birth In Reverse"

15. "Prince Johnny"

14. "Cruel"

13. "Regret"

12. "Cheerleader"

11. "Savior"

10. "Los Ageless"

9. "All My Stars Aligned"

8. "...At The Holiday Party"

7. "Pay Your Way In Pain"

6. "Fear The Future"

5. "The Melting Of The Sun"

4. "New York"

3. "Down"

2. "Fast Slow Disco"

1. "Hang On Me"