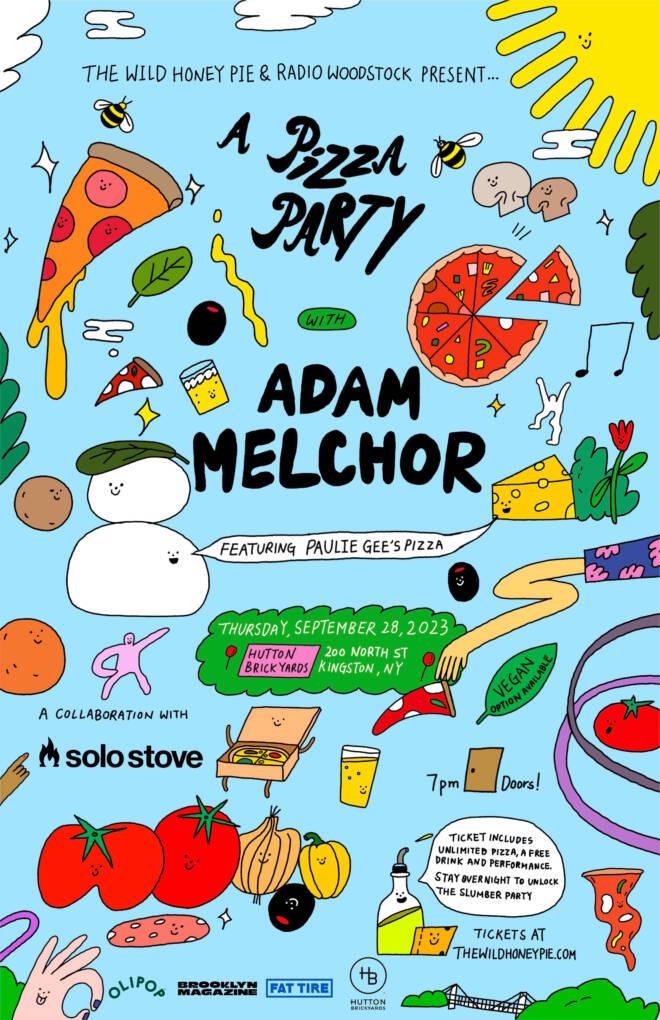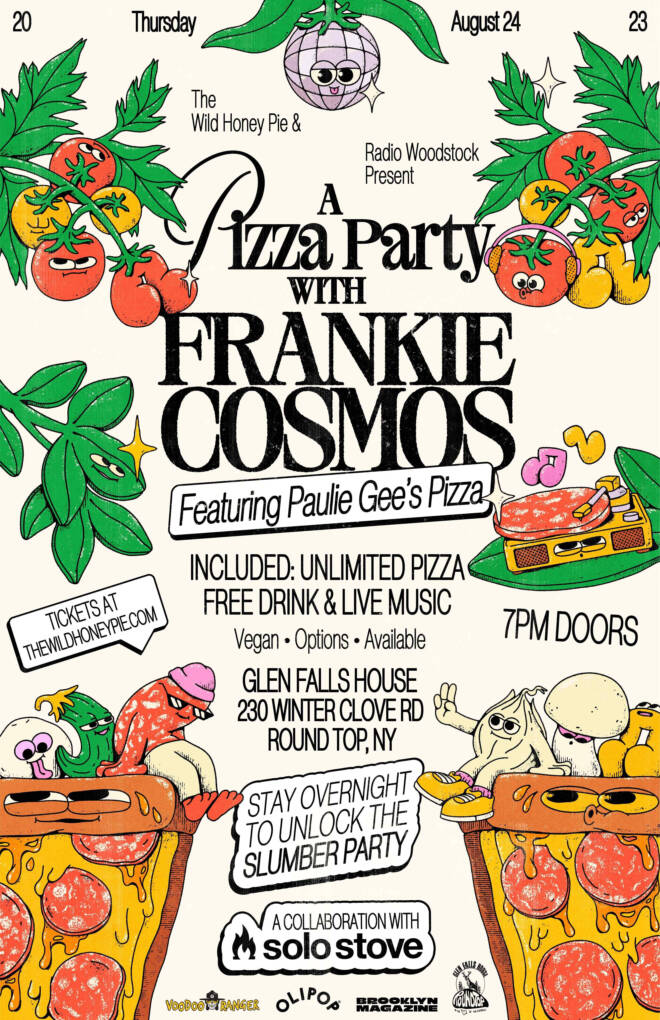 Frankie Cosmos - Wayne (Demo)
---
We're bringing Frankie Cosmos upstate for our next Pizza Party at Glen Falls House, with Radio Woodstock, Solo Stove, Brooklyn Magazine and food from Brooklyn legend, Paulie Gee. Join us on August 24 for unlimited wood-fired pizza, drinks from Olipop and New Belgium's Voodoo Ranger and an intimate live show from the band.
We first collaborated with Frankie Cosmos in 2015 during our CMJ Beehive party and have been trying to team up since. Lucky for us, Greta loves pizza and was down to make this happen so here we are! Want to drink to your heart's content and not have to worry about driving? Spend the night with us at Glen Falls House and experience the magic of our Slumber Party afterparty, complete with fresh, complimentary Moonburger, Weekenders Cannabis and a set from our resident DJ, Saint Hippo.
We have 60 tickets left that include food, a free drink and live music, and a few more for music only if you don't like pizza. Grab your spots to the party here and tell some friends.
Artwork by Taylor Dasbach.
—
Eric Weiner
on July 27, 2023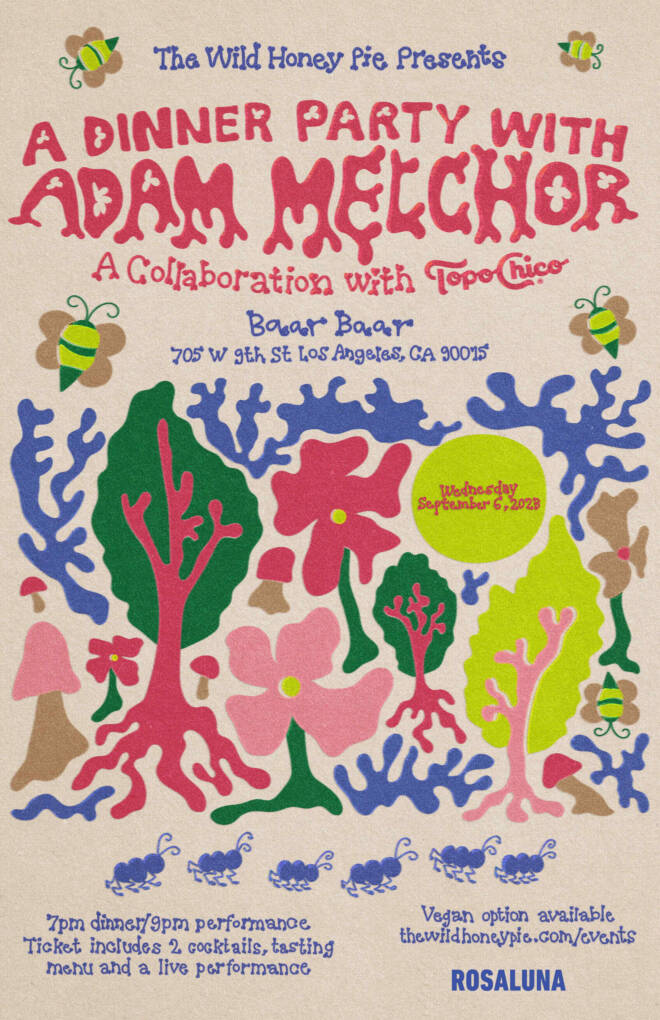 Adam Melchor - Garment Bag
---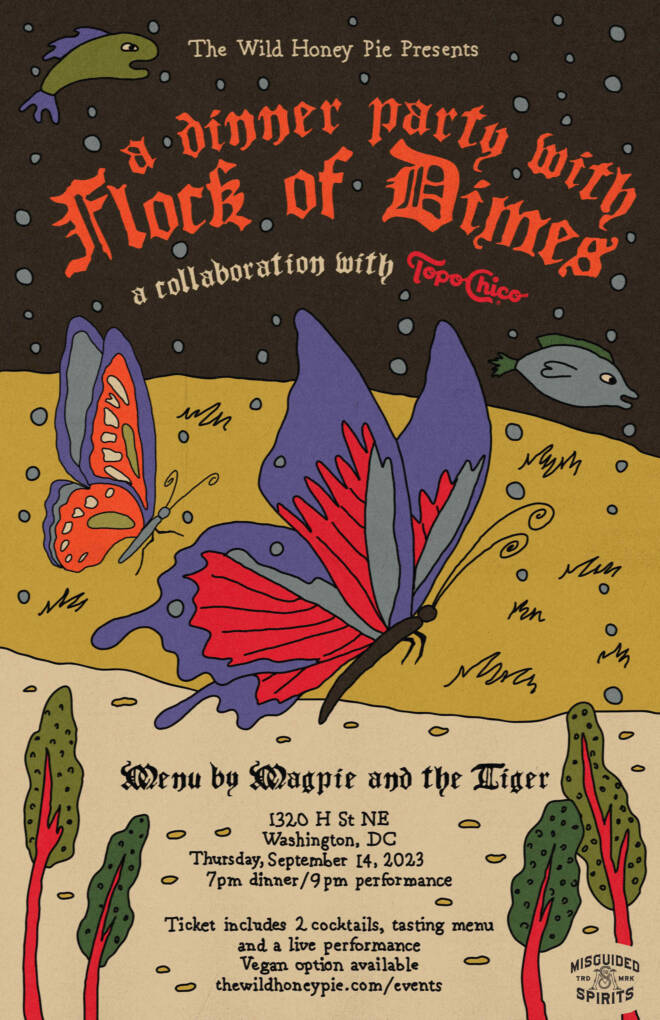 Flock of Dimes - Price of Blue
---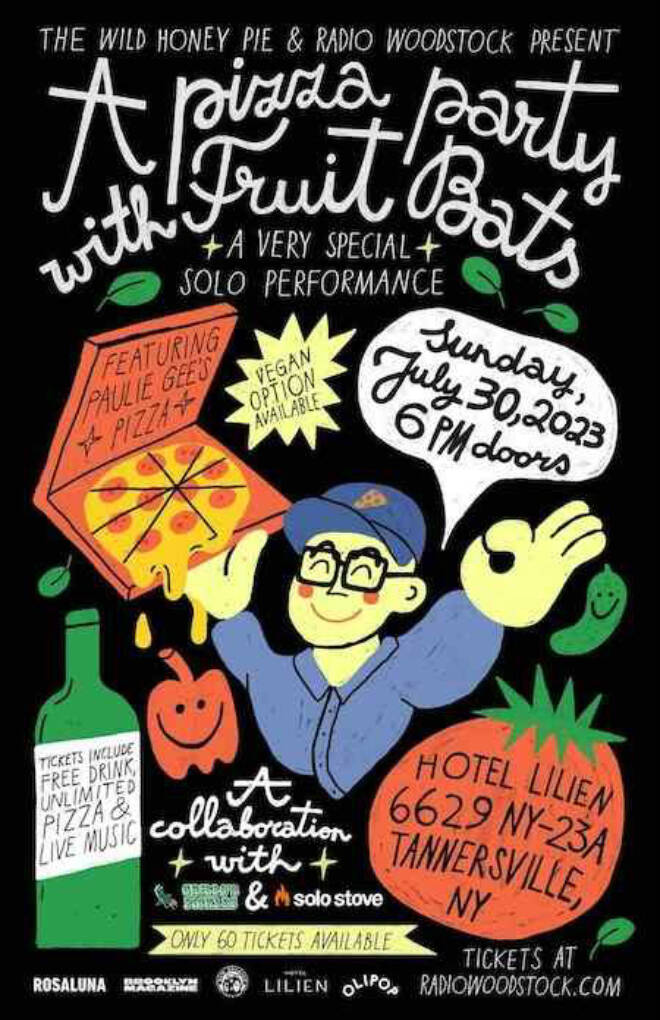 Fruit Bats - Humbug Mountain Song
---
This is a moment decades in the making! Fruit Bats have been one of my favorite bands since Mouthfuls came out in 2003 and I started adding "When U Love Somebody" to every single one of my mixtapes. With endless excitement, I'm sharing today that they'll be performing a special solo set for an intimate audience of just 100 people on July 30 at Hotel Lilien in the Catskills, complete with one-of-a-kind Grillo's Pickles pizza menu from Paulie Gee. Tickets are sold out but you can join our waitlist here.
We highly suggest booking a room at Hotel Lilien and hanging out with us by the Solo Stove fire pits late night with the band. The Pizza Party music series is a monthly showcase in upstate NY produced by The Wild Honey Pie and Radio Woodstock, with support from Olipop, New Belgium, Mezcal Rosaluna and Brooklyn Magazine.

—
Eric Weiner
on July 7, 2023