20 Fave Sufjan Stevens Songs
Updated by Eric Weiner on September 21, 2018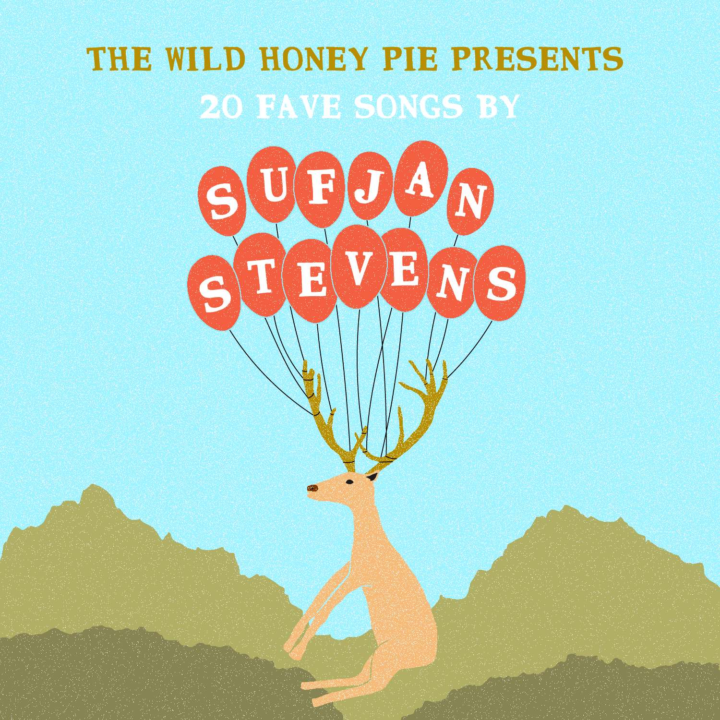 It's a tough exercise to whittle down Sufjan Stevens' huge and varied discography to just twenty of our favorite songs. After all, the indie troubadour has dabbled in genres as varied as folk, rock and, of course, some genres that are wholly Sufjanian: his recent collaborative effort with Nico Muhly and Bryce Dessner, Planetarium, gorgeously interweaves elements of folktronica, classical music and fully orchestrated motifs.
But undergirding Sufjan Stevens's work is a dedication to creating songs that harken back to a grassroots folk movement unafraid to tell stories to their fullest--even those that glimpse into the realm of outright tragedy. Stevens has served his enchanting falsetto over both minimal plucked environments and triumphant, brass-heavy cuts, insistently pulling from new technological frameworks that enable his creative spirit to run absolutely wild. Here are our favorite tracks from the creative genius. Thanks to JC Wu for the playful album cover for this playlist.
20. "I Walked"
19. "Star of Wonder"
18. "We Are What You Say"
17. "He Woke Me Up Again"
16. "All Good Naysayers, Speak Up! Or Forever Hold Your Peace!"
15. "Romulus"
14. "Vesuvius"
13. "To Be Alone With You"
12. "Pittsfield"
11. "Adlai Stevenson"
10. "All the Trees of the Field Will Clap Their Hands"
9. "Come On! Feel the Illinoise! Part I: The World's Columbian Exposition Part II: Carl Sandburg Visits Me In A Dream"
8. "Concerning the UFO sighting near Highland, Illinois"
7. "Heirloom"
6. "Vito's Ordination Song"
5. "Decatur, or, Round of Applause for Your Step-Mother!"
4. "Impossible Soul"
3. "John Wayne Gacy, Jr."
2. "Chicago"
1. "The Predatory Wasp of the Palisades Is Out To Get Us"