20 Fave Joni Mitchell Songs
Updated by Paige Shannon on March 12, 2021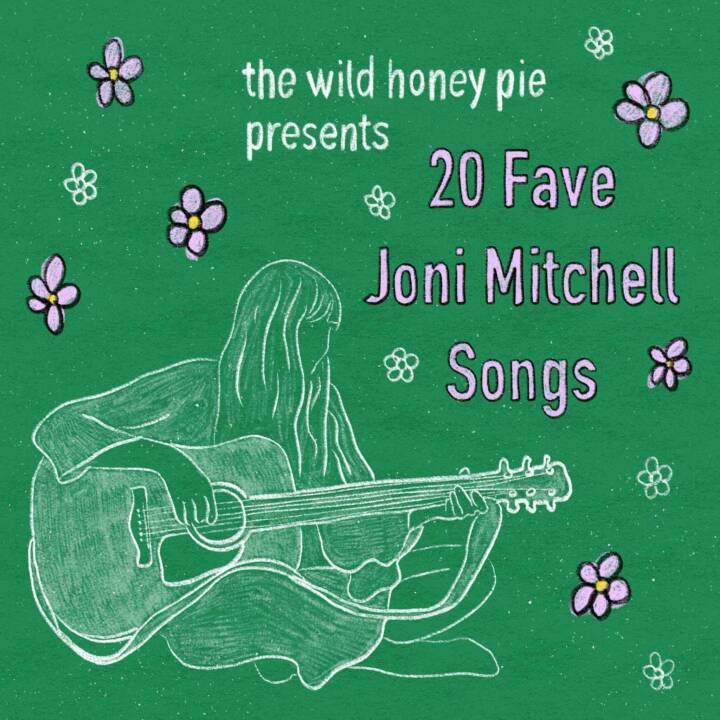 From the whimsical, folk-tinged compositions of Song to a Seagull to the groovy, jazz-inspired music of Don Juan's Reckless Daughter, Joni Mitchell's work has always been that of a fiercely original sonic pioneer. She has made an indelible mark on popular music, arguably most notably with her 1971 masterpiece Blue. Before Blue, the raw, emotional honesty we now see today in the songwriting of artists such as Taylor Swift was not commonplace in popular music. The genius of Joni's songwriting is that she writes in a way that allows you to empathize with and see yourself in the work—holding a mirror up to society and forcing us to ask tough questions about ourselves and about life, love and death.
My parents are hardcore Joni Mitchell fans and spent years of my childhood trying to get me to listen to her music. I, of course, was too busy listening to Radio Disney to pay any real attention. That all changed, though, when I went through my first breakup in early 2014. I was 14, overdramatic and distraught, so naturally, my mom saw the perfect opportunity. She asked me to give Blue one real listen, and said she'd be shocked if it didn't help me. I had nothing better to do, so I agreed to try it out, sulking into my room and shutting the door. I collapsed onto the bed, put my earphones in, pressed play and closed my eyes. From the first few notes of "All I Want," I was floored. The gorgeous, minimal instrumentation, sheer originality in tunings and chord progressions and soaring vocals had me hooked—but what really struck me like a lightning bolt were her lyrics. There never has been—and never will be—another lyricist like Joni Mitchell. She paints landscapes with words, crafting full stories out of even the most fleeting and intangible of feelings.
If it weren't for Joni's stubborn refusal to be anyone but herself, we would not have the singer-songwriters that we love and cherish today. She made it okay to be vulnerable. By stripping herself of all defenses when creating her art—studying equally the failures, flaws and triumphs of herself and of the world around her—she proved to us that what is most personal is most universal. We cannot thank her enough.
Words by Paige Shannon. Special thanks to Emily Hoang for this incredible cover.
20. "The Hissing of Summer Lawns"

19. "Willy"

18. "Big Yellow Taxi"

17. "Sex Kills"

16. "Coyote"

15. "The Last Time I Saw Richard"

14. "Cold Blue Steel and Sweet Fire"

13. "Woman of Heart and Mind"

12. "Song for Sharon"

11. "Amelia"

10. "Help Me"

9. "For Free"

8. "People's Parties"

7. "Urge for Going"

6. "Cactus Tree"

5. "Both Sides Now"

4. "A Case of You"

3. "River"

2. "California"

1. "Woodstock"