Top 50 Albums of the 2010s
Updated by Britnee Meiser, Andrea de Varona and Eric Weiner on July 19, 2020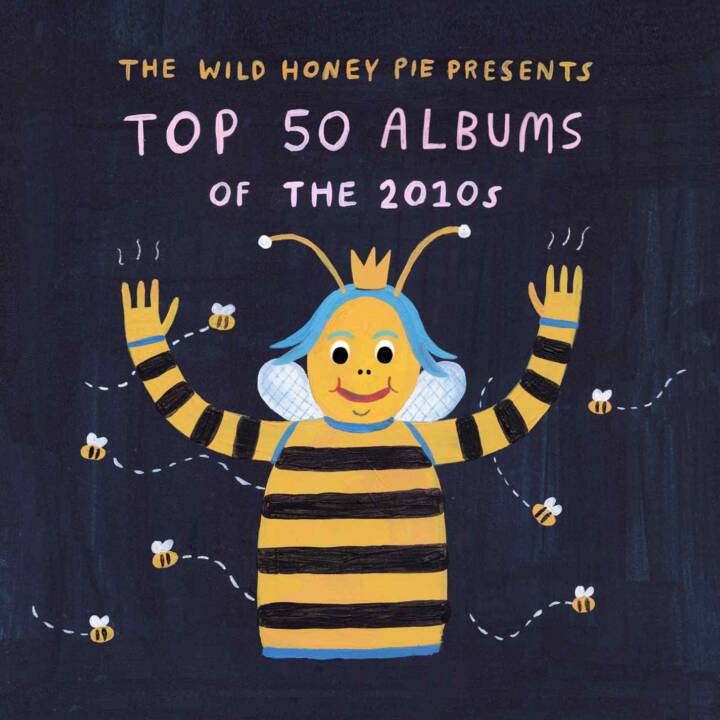 As the 2010s come to a close, we want to take note of the albums that helped shape our decade. Despite the rapid growth of streaming services, albums are still essential in determining the significance and longevity of a career. Albums will always matter because they tell multiple stories and capture specific feelings. Beyond singles, we cherish the meaning and larger narrative that truly great albums provide, and are grateful for the sense of comfort and understanding that they present, both intimately and within the communities around us.
In 2011, Bon Iver gave us an expansive and artful album, the self-titled Bon Iver. This masterpiece absorbed the atmosphere of the Wisconsin woods and molded it into 10 perfect songs. The following year, alt-J reminded us that introspection evokes community when they released An Awesome Wave—followed by our Buzzsession with them at Electric Lady Studios in Manhattan. 
Our top album of the decade came in 2010 with the release of Joanna Newsom's triple record Have One On Me. The triple album took our breath away when it hit iTunes that year. With many of the songs on the project coming in at over seven minutes, experiencing this incredibly polarizing album was overwhelming at first, but that weight quickly lifted as the genuine beauty revealed itself. "Baby Birch" and "Have One On Me" are without a doubt standouts, though each and every song is captivating in its own right.
And speaking of masterpieces, Big Thief emerged onto the scene in 2016 with their emotionally gripping debut album, Masterpiece, proving to us that sometimes the best guitar solos only need four notes. That is certainly not to say we don't appreciate complex instrumentals—Brittany Howard has been shredding the guitar since her musical debut in 2012, but it was her prolific sophomore album with Alabama Shakes in 2015, Sound and Color, that really got our attention. The same year, Tame Impala's the third record Currents took the music world by storm—the crisp, tight sound showcased Kevin Parker's masterful grasp of production (and impressive collection of synths).
The 2010s saw artists continuously breaking down barriers, both in genre and within the music industry itself, to defy our expectations. No artist did this better than Beyoncé, who dropped her Grammy-winning visual album Lemonade in 2016, which was a sweeping historical and emotional tribute to the trials of Black women. It is also a crucial reminder, as we move into the new decade, that music is about more than streaming numbers. Music is a reflection of our lives, of our questions, desires and fears, and therefore, of ourselves.
Here you'll find our top 50 albums of the decade, a companion to our top 200 songs list. Stream the list directly on Spotify or Apple Music. Many thanks to Zet Gold for the fabulous playlist cover.
50. Maggie Rogers - Heard It In A Past Life
49. Arctic Monkeys - AM
48. Drake - Nothing Was The Same (Deluxe)
47. The xx - Coexist
46. Frankie Cosmos - Next Thing
45. Courtney Barnett - Sometimes I Sit and Think, and Sometimes I Just Sit
44. Kacey Musgraves - Golden Hour
43. Tierra Whack - Whack World
42. Henry Jamison - The Wilds
41. Dirty Projectors - Swing Lo Magellan
40. LCD Soundsystem - This Is Happening
39. SZA - Ctrl
38. Lorde - Pure Heroine
37. Gorillaz - Plastic Beach
36. Beach House - Teen Dream
35. Lizzo - Cuz I Love You (Deluxe)
34. Jónsi - Go
33. St. Vincent - Strange Mercy
32. Sylvan Esso - Sylvan Esso
31. Kendrick Lamar - DAMN.
30. Solange - When I Get Home
29. Lana Del Rey - Born To Die - The Paradise Edition
28. The War On Drugs - Lost In The Dream
27. Julia Jacklin - Crushing
26. Solange - A Seat at the Table
25. Sharon Van Etten - Are We There
24. Phoebe Bridgers - Stranger in the Alps
23. Mitski - Be the Cowboy
22. Kanye West - My Beautiful Dark Twisted Fantasy
21. Jamie xx - In Colour
20. Girls - Father, Son, Holy Ghost
19. Pinegrove - Cardinal
18. Grimes - Visions
17. Big Thief - Masterpiece
16. Vampire Weekend - Modern Vampires of the City
15. HAIM - Days Are Gone
14. Rostam - Half-Light
13. Tame Impala - Currents
12. Alabama Shakes - Sound & Color
11. alt-J - An Awesome Wave
10. Frank Ocean - channel: Orange
9. Arcade Fire - The Suburbs
8. The National - High Violet (Expanded Edition)
7. Sufjan Stevens - Carrie & Lowell
6. Kishi Bashi - 151a
5. Beyoncé - Lemonade
4. Kendrick Lamar - To Pimp A Butterfly
3. Big Thief - Capacity
2. Bon Iver - Bon Iver
1. Joanna Newsom - Have One On Me