Top 30 Albums of 2018
Updated by The Wild Honey Pie on December 8, 2020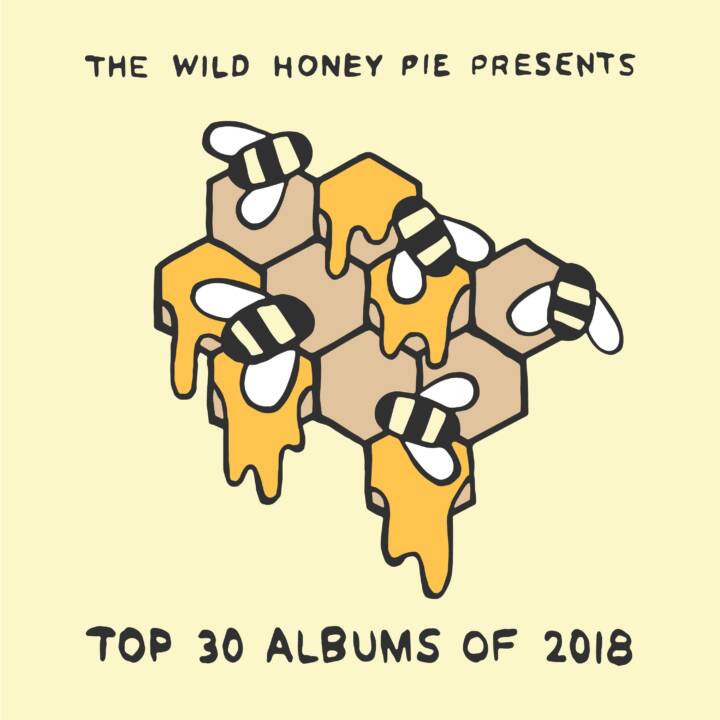 We all have those songs that can be on repeat for hours, but one of the best feelings is putting an album on shuffle and being completely satisfied with whatever song plays next. These are the albums that one could describe as "just killers and no fillers" and where your favorite song always seems to change. With women leading the way, the top albums of 2018 showcased artists that have already been known to dance to the beat of their own drum. Whether it was Janelle Monáe showing us the importance of intersectionality in a world that tries to erase nuance or The 1975 reminding us of the danger of our society's obsession our online presence, these albums didn't just entertain us, they taught us. We stood in awe of Mitski as she proved herself to be more than just a hype machine but rather a pillar of musical excellence in her standout album Be The Cowboy.
We also took note of the newcomers, like Haley Heynderickx and Fenne Lily as they gave us raw acoustic songs we never knew we needed. With the return of Father John Misty and Pinegrove we explored the fragile lines between musicians who have been involved in controversy and their plight to become better or in Tillman's case more "authentically bogus that bogusly authentic." Within these albums are songs that collectively tell stories and carry messages of hope, freedom or just the utter confusion of everyday life. With a mix of skill, talent and heart, these artists gave us albums that landed them a spot on our best of 2018 list, each holding a special place in our hearts.
Stream the list directly on Spotify or Apple Music. Special thanks to Brandt Imhoff for the stunning playlist cover.
30. Phosphorescent - C'est La Vie
29. Foxwarren - Foxwarren
28. The Paper Kites - On The Corner Where You Live
27. Cautious Clay - Blood Type
26. The 1975 - A Brief Inquiry Into Online Relationships
25. Florence + The Machine - High As Hope
24. Father John Misty - God's Favorite Customer
23. Wet - Still Run
22. Hop Along - Bark Your Head Off, Dog
21. Lykke Li - so sad so sexy
20. The Beths - Future Me Hates Me
19. Snail Mail - Lush
18. Wild Pink - Yolk in the Fur
17. Miya Folick - Premonitions
16. Blood Orange - Negro Swan
15. Oh Pep! - I Wasn't Only Thinking About You
14. Adrianne Lenker - abysskiss
13. Pinegrove - Skylight
12. Liza Anne - Fine But Dying
11. Ashe - The Rabbit Hole
10. Haley Heynderickx - I Need to Start A Garden
9. Ariana Grande - Sweetener
8. Soccer Mommy - Clean
7. Death Cab for Cutie - Thank You For Today
6. Lucy Dacus - Historian
5. Fenne Lily - On Hold
4. Janelle Monáe - Dirty Computer
3. Boygenius - Boygenius
2. First Aid Kit - Ruins
1. Mitski - Be the Cowboy