Top 100 Songs of 2019
Updated by Britnee Meiser on August 4, 2020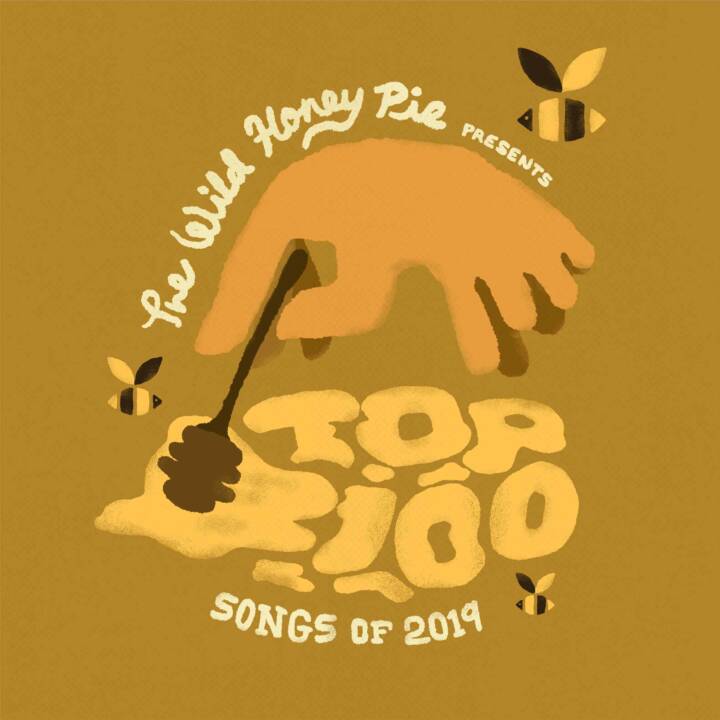 2019 has been a transformative year for music as genres become a thing of the past. In a streaming world where the music market is widely accessible, not to mention oversaturated, the idea of fitting nicely into a genre seems almost boring. As a result, artists are no longer content to box themselves into categories. This year, our favorite artists wrote songs that proved they didn't want to fit in; they wanted to stand out. We discovered new artists who established their innovative, genre-busting sounds and fell back in love with established artists who evolved and redefined theirs. Even better, some of these new and established artists teamed up for killer collaborations that defied both of their sounds, producing tracks that inspired us, amazed us, and reminded us of the power of human connection.
January began with one of these stellar collaborations, when Phoebe Bridgers and Conor Oberst dropped the single "Dylan Thomas" under the moniker Better Oblivion Community Center, proving that Indie's saddest songbirds have the capacity to let loose and rock out. Then Drugdealer and Weyes Blood warmed us up with some "Honey" in April, a one-off collaborative single from Drugdealer's sophomore album, Raw Honey. Their groovy hooks and Natalie Mering's haunting vocal was one of the greatest pairings of the year. 

April also saw the release of Cuz I Love You, Lizzo's prolific debut album that includes the smash single "Truth Hurts," a song so catchy and danceable, and from one of music's coolest new voices, that it had to take the number two spot on our list. Not far behind is Tyler, The Creator, whose creative, genre-bending genius was on full display in his fifth album IGOR, and whose song "EARFQUAKE" we blasted all through the summer. And then, autumn gifted us with Brittany Howard's expansive, soulful debut solo record Jaime and our number one song of the year, "Stay High." September was also the release month of our third artist of the year, Charli XCX's luminous, self-titled dance anthem, Charli. Check out "Stay High" and "White Mercedes" first, but definitely don't stop there.

Stream the list directly on Spotify or Apple Music. Big thanks to Eric Weiner and Andrea de Varona for taking the lead on our year end lists and to Michael-Vincent Laviolett for the stellar graphics.
Please note that all songs listed here were on albums released in 2019. Some did, however, come out as singles previously.
100. Your Smith - "Man Of Weakness"
99. Christelle Bofale - "Moving On, Getting On"
98. Tennis - "Runner"
97. Jai Paul - "Do You Love Her Now"
96. Future Generations - "Just Pretend"
95. Raffaella - "Sororicide"
94. Kate Bollinger - "I Don't Wanna Lose"
93. Hovvdy, Lomelda - "Out There"
92. Sofia Wolfson - "Nothing's Real"
91. Worn-Tin - "Something's Coming"
90. Bon Iver - "Naeem"
89. Del Water Gap - "To Philly"
88. Rayland Baxter - "Come Back To Earth"
87. Daisy the Great - "Company"
86. Twain - "Death (or S.F.?)"
85. Kindness, Robyn - "The Warning"
84. Fake Dad - "Indigo"
83. MyKey - "Was It Something I Said"
82. The National - "Rylan"
81. slenderbodies - "arrival"
80. Spoon - "No Bullets Spent"
79. Better Oblivion Community Center - "Forest Lawn"
78. Danny Brown - "Dirty Laundry"
77. Bibio - "Curls"
76. Kelsey Lu - "Due West"
75. Charli XCX, Lizzo - "Blame It on Your Love"
74. Kishi Bashi - "Summer of '42"
73. Helado Negro - "Running"
72. Ashe - "Moral of the Story"
71. Hovvdy - "Cathedral"
70. (Sandy) Alex G - "Gretel"
69. Brittany Howard - "He Loves Me"
68. Blood Orange, Kelsey Lu - "Birmingham"
67. Toro y Moi - "Freelance"
66. Marika Hackman - "send my love"
65. Okey Dokey, Liz Cooper & The Stampede - "Winnebago"
64. Nilüfer Yanya - "Melt"
63. Buck Meek - "Halo Light"
62. SASAMI, Devendra Banhart - "Free"
61. Miya Folick - "Malibu Barbie"
60. Still Woozy - "Lava"
59. Loving - "Only She Knows"
58. Beirut - "Varieties of Exile"
57. Maggie Rogers - "Give A Little"
56. Hand Habits - "placeholder"
55. Frank Ocean - "DHL"
54. Big Thief - "Two Hands"
53. Jay Som - "Tenderness"
52. Carly Rae Jepsen - "Feels Right"
51. Cate le Bon - "Home To You"
50. Post Malone - "Circles"
49. Andrew Bird - "Sisyphus"
48. Julia Jacklin - "When The Family Flies In"
47. Fruit Bats - "The Bottom of It"
46. Bon Iver - "Marion"
45. Cherry Glazerr - "Daddi"
44. Mereba  - "Black Truck"
43. Covey - "Dead of Night - The Wild Honey Pie Buzzsession"
42. Jessica Pratt - "This Time Around"
41. The National - "Not In Kansas"
40. Mark Ronson, Lykke Li - "Late Night Feelings"
39. Great Grandpa - "Mono no Aware"
38. Lucy Dacus - "Forever Half Mast"
37. Toro y Moi - "Whoever I Am"
36. Clairo - "Bags"
35. Angelo De Augustine - "Tomb"
34. Runnner - "Eggshell"
33. FKA twigs - "Cellophane"
32. Lil Nas X, Billy Ray Cyrus - "Old Town Road - Remix"
31. King Princess - "Cheap Queen"
30. Solange - "Stay Flo"
29. Aldous Harding - "The Barrel"
28. Ashe - "Cold in California"
27. Drugdealer - "Lost In My Dream"
26. Caroline Polachek - "Door"
25. Florist - "Shadow Bloom"
24. Vampire Weekend - "Harmony Hall"
23. Vagabon - "Water Me Down"
22. Maggie Rogers - "Retrograde"
21. Christian Lee Hutson - "Northsiders"
20. Julia Jacklin - "Pressure to Party"
19. Bedouine - "When You're Gone"
18. Mark Ronson, Angel Olsen - "True Blue"
17. Faye Webster - "Kingston"
16. Anderson .Paak, Smokey Robinson - "Make It Better"
15. Karen O, Danger Mouse - "Turn The Light"
14. Kevin Morby - "Oh My God"
13. James Blake, Rosalía - "Barefoot In The Park"
12. Big Thief  - "Not - Edit"
11. Julia Jacklin - "Don't Know How To Keep Loving You"
10. Kishi Bashi - "Penny Rabit and Summer Bear"
9. Sharon Van Etten - "Seventeen"
8. Tyler, The Creator - "EARFQUAKE"
7. Japanese Breakfast - "Essentially"
6. Molly Sarlé - "Human"
5. Better Oblivion Community Center - "Dylan Thomas"
4. Drugdealer, Weyes Blood - "Honey"
3. Charli XCX - "White Mercedes"
2. Lizzo - "Truth Hurts"
1. Brittany Howard - "Stay High"