Buzzing Daily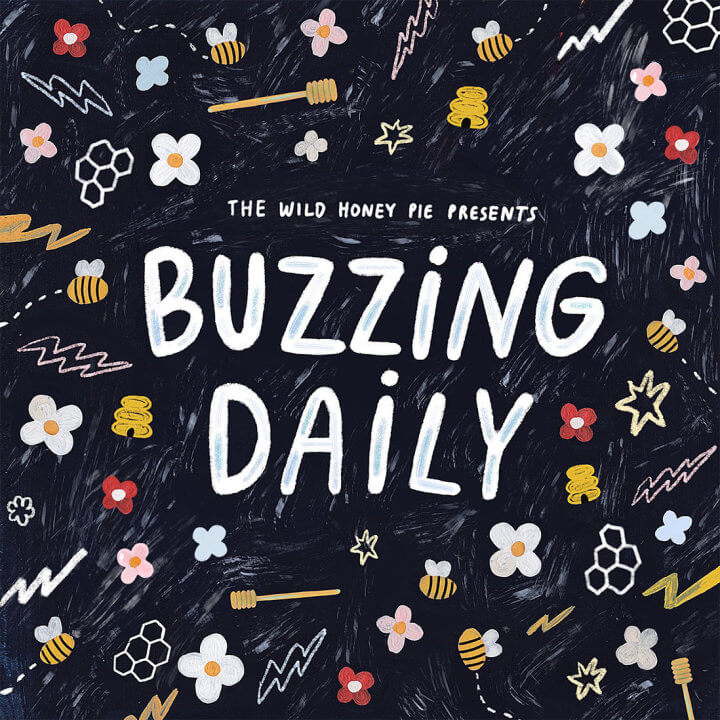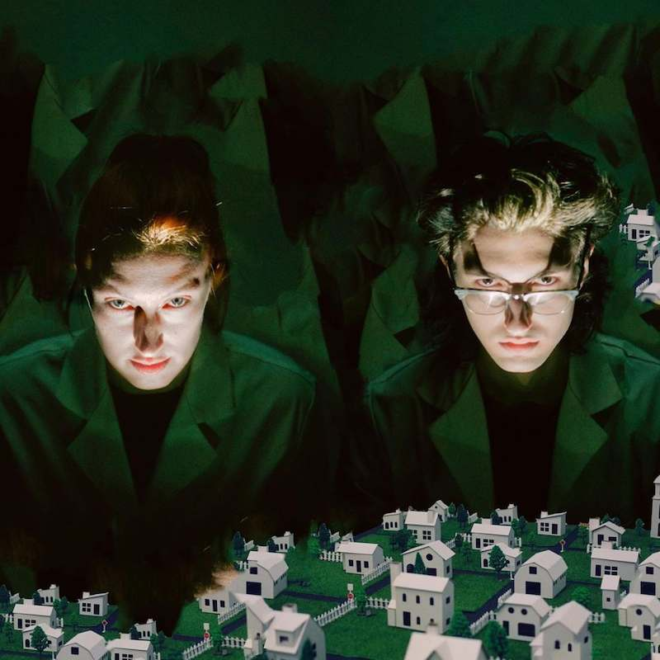 Test Subjects - Interstate of Mind
---
If you ever cried while listening to "driver's license," put on Test Subjects' "Interstate of Mind." Like Olivia Rodrigo's standout hit, "Interstate of Mind" takes place on a long drive, reminiscing about an ex from the summer of being 17. Beyond these similarities, though, the track's uniquely immersive blend of found sounds, acoustic/electronic instrumentation and cascading melodies feels as fresh and restorative as sudden rain.
Rain is important to this Test Subjects' track. The song takes place over the course of a rainy highway drive, setting the scene with the opening lines like "Doing laps on the freeway / On a Sunday / There was no one else on the road / Nothing else to do / Nowhere else to go." The lyrics throughout are both descriptive as well as delicately poetic. A thunderstorm over the highway becomes "somewhere in the sky there's an open eye raining down onto me / I don't really mind / but I can barely see."
"Interstate of Mind" unfolds like a highway: smooth and steady, with sudden flashes of color and detail. What seems like a "no thoughts, just vibes" experience evolves into reflecting on a lost relationship before you know it (as these trips so often do). Test Subjects' vocals are sweet on devastatingly simple lines like, "You put a ding in my bumper / I popped it out by myself / Now you're wrecking someone else."
Pressing play on "Interstate of Mind" plunges the listener into that uniquely meditative state you might find yourself in on a long drive. Percussive elements like blinkers and windshield wipers blend with subtle choices in the mix that place you in the driver's seat of the car; this is a song for headphones. The saxophone playout towards the end is just one example of the endless surprises in store on this fascinating track. You'll be tempted to keep singing, "Do you think about that summer?" long after "Interstate of Mind" ends—maybe even longer than you ever thought about that ex in the first place.
—
Belle Shea
on November 19, 2021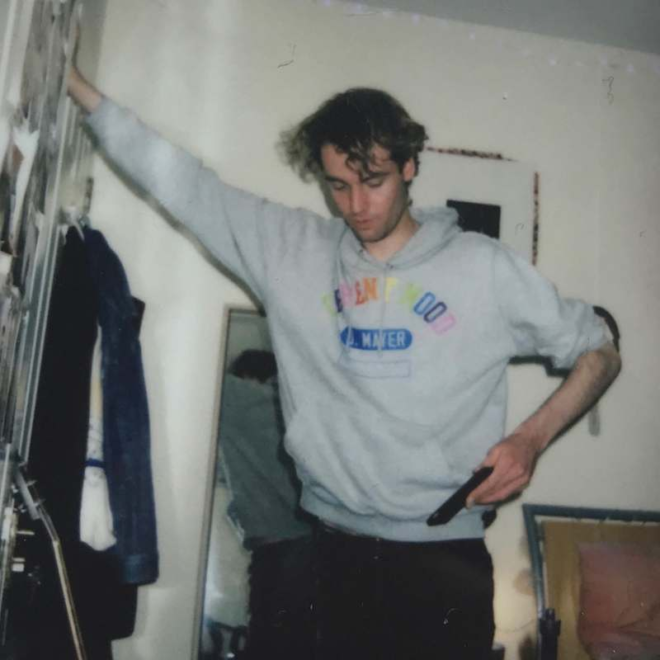 Euan Blackman - HIGHHIGHHIGH
---
With flickering plucks of springy acoustic guitar and the wonderfully contrasting sound of muddy bass, Euan Blackman strolls in with his third single, "HIGHHIGHHIGH." Blackman sings of a common likeness amongst all of humankind: the desire to forget the past. This is not just any song about utilizing substances to distract from the present—it is a self-aware recognition of that escape, as well as a commonplace for theorizing. "Is it decadence to wanna feel right?" Blackman asks, in implied sleeplessness over the question. This sanguine tune is a crossing-paths of loss and hope.
—
Laney Esper
on November 3, 2021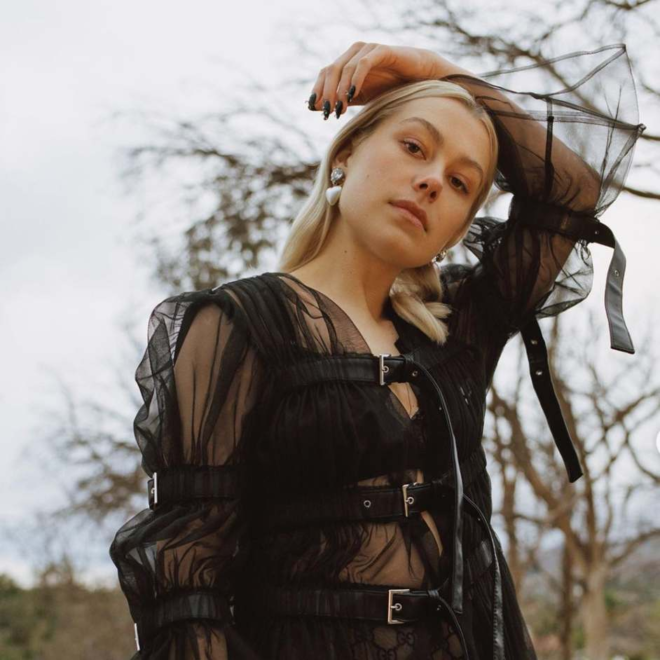 Phoebe Bridgers - That Funny Feeling (Bo Burnham Cover)
---
The intersection of these two titans' talent is truly a blessing to the coinciding fanbases of emo rock and alternative comedy. What may seem like a slim Venn diagram has actually proven to be quite robust, as fans' recognition of this track at Phoebe Bridgers' recent live shows implies Punisher wasn't the only album this ghost-and-skeleton-clad crowd has been spinning. "That Funny Feeling," originally written and performed by Bo Burnham, one of comedy's premier talents, is a standout from his most recent special Inside, which landed on Netflix in May of this year and nearly broke the internet in the process. If you're familiar with Bo and Phoebe, it shouldn't shock you that she heard this song and loved it. The intelligence and poignance fit the bill of what she imbues in her own work. The articulation of general complacency in the midst of societal collapse, climate crisis and international neural numbing is crystal clear and sharp as a knife in this rendition. There's a certain brand of nihilistic nuance shared by the two that strikes a chord with fans.
If this description seems abstract, it's intentional. I'd rather you take a moment to listen to Bo's original track (which you can find on streaming services, or even better, in context while watching his special on Netflix) and then take a moment to listen to Phoebe's cover. Not long ago, the two performed this song together for the first time at Largo in LA, an undoubtedly special experience for the audience; "That Funny Feeling" has since become a part of her setlist, a pleasant and near-perfect fit for the live show, as the song itself melds seamlessly into the narrative of Punisher, an echo or sister song to "I Know The End." If I wasn't already privy to Bo's work, I might mistake it for one of her original songs. The folk base of it appeals to her roots, while Phoebe brings a more explosive element to the track by adding horns and a longer, evolving outro. I'm thankful Bo and Phoebe sparked a friendship clearly built on philosophical and artistic similarities, and I hope it means we'll see more collaborations between the two of them in the future. Photo by Daria Ritch.

—
Hannah Lupas
on November 2, 2021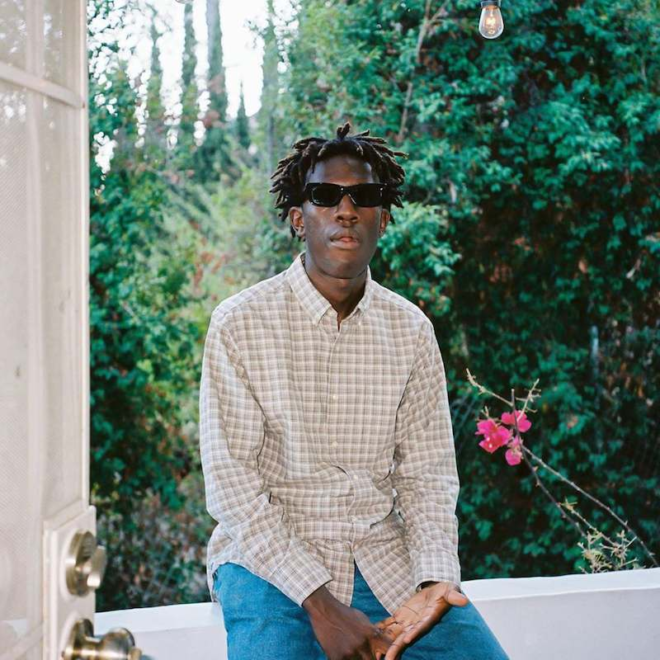 binki - Invisible Fence
---
binki's "Invisible Fence" is both a breath of fresh air and a certifiable bop. Blending driving, distorted guitars with punchy drums and bubbly synths, the song has a gritty authenticity that invites multiple listens. It pulls from the best of classic Kid Cudi-esque flow as much as from the sonic world of alt-punk to deftly weave a musical landscape that's all its own.
The most exciting part of this song, though, is binki's fresh, playful lyricism, on display in every verse. "Wanna wake up in Bed-Stuy like Aladdin / Got a whole world I can show you" is just one easy example, but binki also toys with closely related rhymes like, "The other night was like gymnastics, doing backflips / Think it's crazy how you acting, are you an actress?" Binki's lyrics mine fresh material out of every metaphor that bubbles up, doubling back on his own ideas before jumping suddenly to an equally juicy new concept. The ideas, whether lyrical or sonic, never overstay their welcome, but stick around just long enough to land.
"Invisible Fence" can most easily be categorized as the kind of free-flowing, hooky groove that fans of binki have come to expect. Like Childish Gambino and Tyler, The Creator, two artists who he cites as inspiration, binki defies genre while pulling in the best of what makes alt-pop catchy. "Invisible Fence" is no exception. Photo by Sophie Day.
—
Belle Shea
on October 29, 2021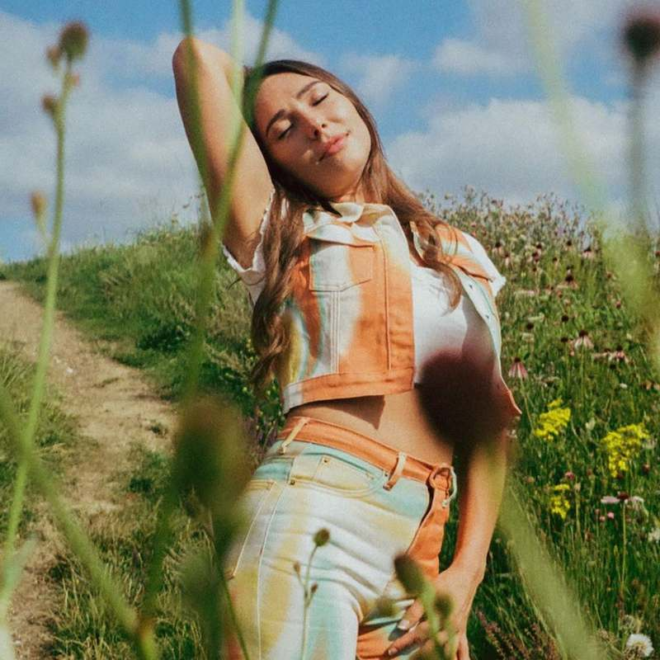 Mabes - Fairground
---
Retro, shimmering guitars, dreamy 2000s-inspired vocals and a tight drum groove all make this track by Mabes shine. "Fairground" is a perfect road trip song, allowing you to skim over the surface of past heartbreaks without diving in too deep. "Love is a fairground," sings Mabes, "I spent my last pound trying to win." It's the kind of sentiment everyone can relate to without trying—luckily, the bright folk-rock arrangement keeps the listener moving forwards through the delicately phrased sorrows of the lyrics without getting lost in them.
The bells and soaring strings are subtle but brilliant elements hiding in plain sight in this track. They give a sense of push and pull at key moments without ever overpowering the guitars or over-sweetening Mabes's alluring, irony-tinged vocal delivery. "Fairground" as a track has a laid-back, self-assured sense of fun. Like any carnival game, you'll want to play it over and over again. And like a doomed love affair, you won't care if it ends the same way every time. Photo by Theo Batterham.
—
Belle Shea
on October 28, 2021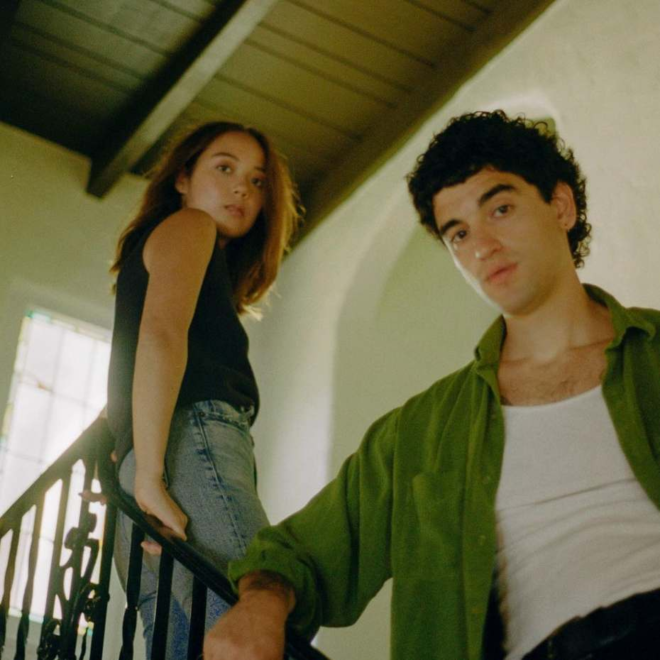 Laufey and Adam Melchor - Love Flew Away
---
Jazz-charmed Laufey Lin and indie-pop dazzled Adam Melchor got together on exhilarating new track "Love Flew Away." Sometimes falling out of love feels like falling into a dream you can tell you're not awake for. As we move around, the world around us feels real, but not quite real enough to hurt us if we let go too soon. This song feels exactly like the motion of letting go. Laufey's classic vocals fit perfectly with Melchor's dreamy tones, creating a dazy lullaby for the ages. Both artists are touring right now, and we've got our fingers crossed that means they'll surprise fans with performances together. Photo by Caity Krone.
—
Giulia Santana
on October 28, 2021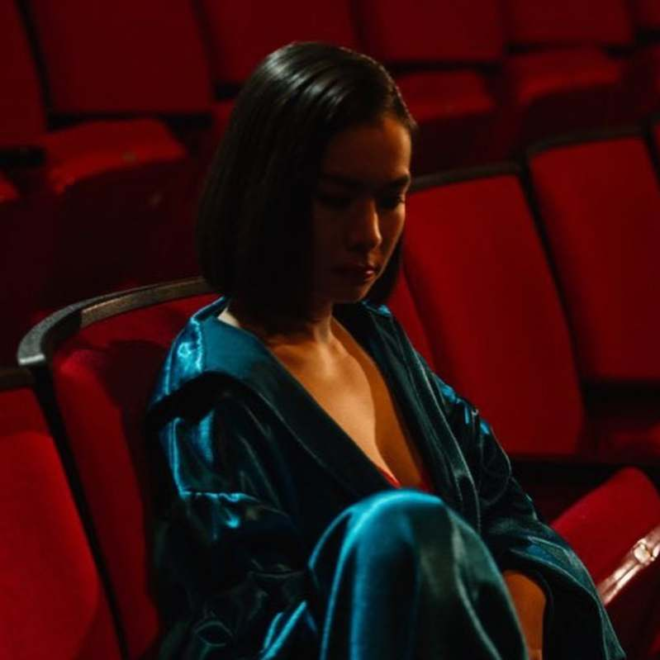 Mitski - Working for the Knife
---
Mitski returned earlier this month with a new single and corresponding music video called "Working for the Knife." Engaging, catchy and lyrically fascinating, "Working for the Knife" exhibits what Mitski does best: present thoughtful, probing questions about the nuance of growing old to the beat of a unique, indie-pop sound. This is a recurring theme in her music: maturing, inadequacy, heartbreak, the natural consequences of aging. Though what "working for the knife" actually entails feels open to interpretation. We see that, to her, the knife that enslaves her is her cyclical sense of pestering deficiency—the world's perception of her, her writer's block, her heartbreak songs, all of it: "I used to think I would tell stories / But nobody cared for the stories I had / About no good guys / I always knew the world moves on / I just didn't know it would go without me / I start the day high and it ends so low / 'Cause I'm working for the knife." The music video is a gorgeous reiteration of this very conflict. At the end, we see Mitski finally release into her artistic expression. We see her fully lean into her movement as she dances and beats and flails to nothing but the sound of her own hands and feet hitting the stage floor. Photo by Ebru Yıldız.
—
Hannah Lupas
on October 27, 2021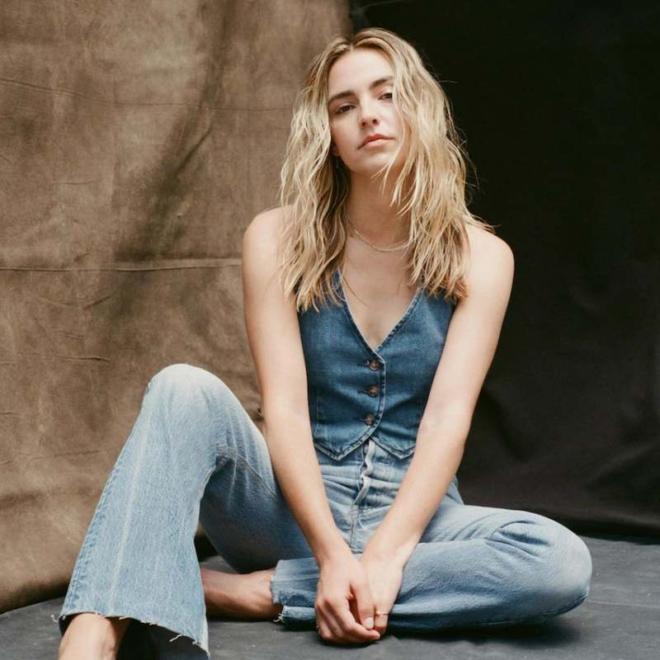 Katelyn Tarver - All Our Friends Are Splitting Up
---
From the first entrance of the moody, cascading guitars and Katelyn Tarver's crisp, emotive vocal delivery, you can feel the threat of imminent heartache simmering in the background of this deceptively simple pop ballad. "All Our Friends Are Splitting Up" draws on the clear language of someone determined to be understood in a situation that's fast spinning out of their control. Where Tarver makes broader observations in lines like, "Oh is this just how it goes? / You fall in fast and then it falls apart so slow," it's in the little details where she finds specificity: "I know we process things a little differently / But I'm jumping off the bridge while you watch TV."
The entrance of drums pushes this seemingly simple ballad further into bedroom pop territory, driving the emotionality home. Reminiscent of Gracie Abrams, "All Our Friends Are Splitting Up" is the kind of song you want to play on repeat in headphones to catch all the layers happening in the production. There's a melodic meditativeness to the song—it's both catchy and catches you off guard. It can be heartbreaking to be so hopeful, and Tarver's song captures the essence of wanting to hold onto a love that you feel fast slipping away. Photo by Ethan Gulley.
—
Belle Shea
on October 27, 2021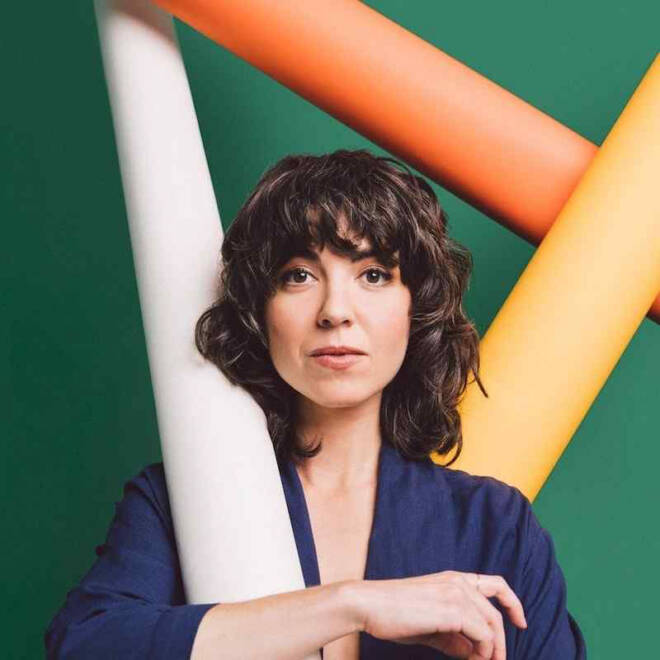 Oddnesse - Rome
---
There's something about this time of year that could best be summed up as feeling "over it." While summer lingers hopefully as the seasons change, it proves no match for the unavoidable shift into sweatshirts and cool weather. "Rome" is a track by Oddnesse that embodies this transitional period. It feels like the sun peeking through tree branches and spilling onto the sidewalk; like getting out of your house for the first time since fall broke, feeling a chill in the air under the clear blue sky, or putting on your favorite sweater for the first time since last year. Feel-good instrumental elements like acoustic guitar and bright sounding drums blended with alleviating lyrical declarations like "Swear it's over, the days that you left me here" capture Oddnesse's soothing mood. We hear her inquire, "Is it effed up if I gave up dreaming of Rome?" and are asked to contemplate what it is we may be holding onto—people, expectations, fantasies—that no longer serve us. On her way to revealing an answer, Oddnesse lets go of fairytales or honeymoons, deciding to contemplate herself instead. As the song draws to a close, she asks, "Is it effed up if I'm tired? I'd rather go home." The answer is no: you don't need to spend energy romanticizing life alongside another. Relieve yourself from the weight of past longings and intentions; as the seasons change, so will you. There is nothing more beautiful than remembering that we provide the love that "treats us the way that it should."
—
Jenna Andreozzi
on October 22, 2021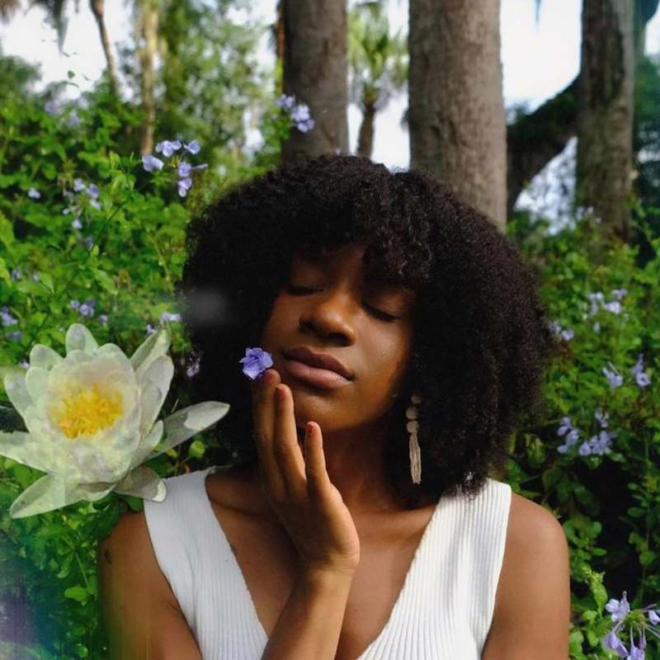 Aisha Badru - The Way Back Home
---
The first thing any listener of Aisha Badru's music has to notice is her uniquely haunting vocal tone. Soaring over simple acoustic guitar strums and the pulsing four-on-the-floor drumbeat of "The Way Back Home," Badru's lush lead vocal takes this emotive acoustic track to new heights. Shimmering, delicate synths in the background of the production are a clever touch to echo Badru's own otherworldly vocal quality. This is a song to listen to on a misty night, possibly while tracing the steady beacon of a lit lighthouse over dark waters.
The lyrics of "The Way Back Home" are simple, possibly because they don't have to do much more than provide a way for us to experience Badru's voice. Lines like "There's a world out there and it'll come calling" are repeated with subtle differences throughout, evolving just enough to illustrate the song's message of constancy and certainty even as new experiences beckon. However, the arrangement of this track is more layered than you might expect from a typical acoustic ballad. The choruses especially feature a thick, warm low-end that you could melt into. Overall, from the rich instrumentation to the moving vocal to the mantra-like lyrics, Aisha Badru's "The Way Back Home" is a song that invites you to dissolve into it, trusting that it will carry you back to where you came from.
—
Belle Shea
on October 19, 2021