Buzzing Daily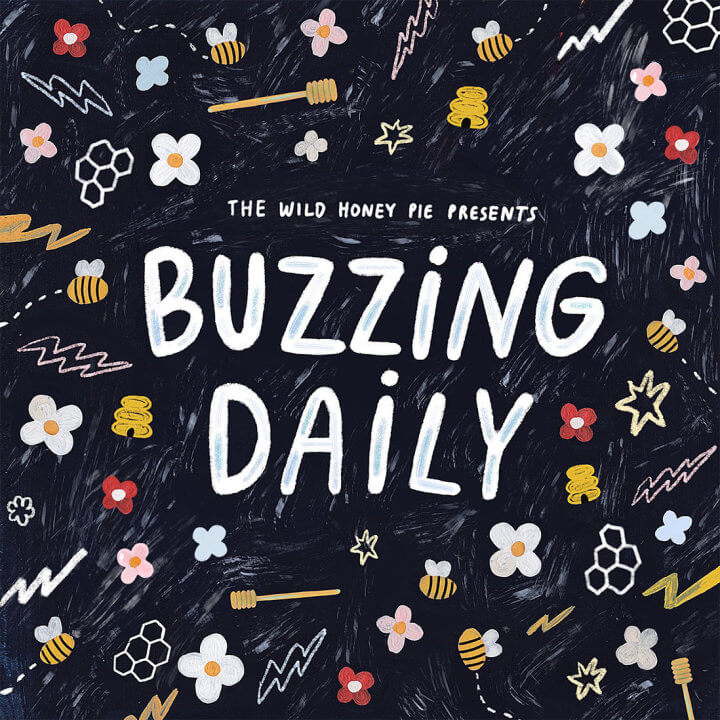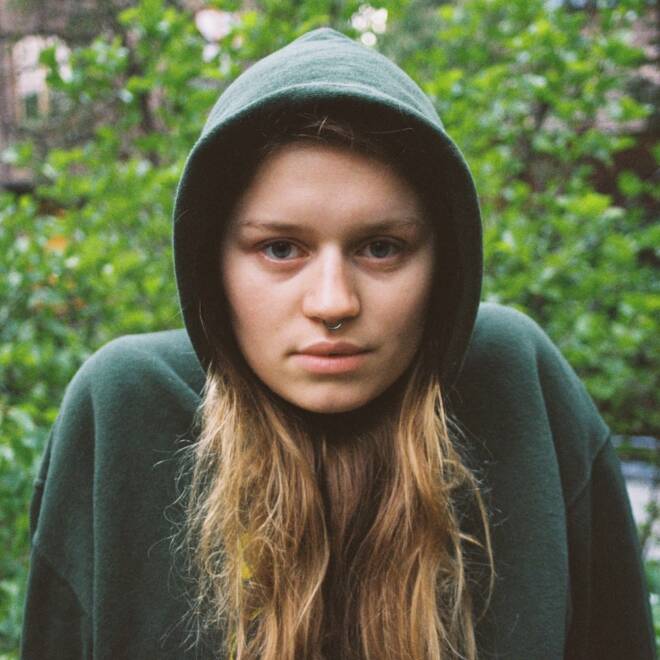 girl in red - rue
---
girl in red's new single "rue" is a haunting, emotional track, obviously inspired by the HBO show Euphoria both sonically and lyrically. From the start, the pounding drums and reverb-drenched instrumentals recall the dark nights and neon dreamscapes depicted in the series. The lyrics describe a relationship in which her mental health issues have made things hard on her partner, taking a toll on the relationship—similar to the dynamic between Rue and Jules shown in Euphoria. She describes crippling depression in the lines, "I hate the way my brain is wired / Can't trust my mind, it's such a liar / Believe me when I say / I can't carry the weight." Despite her struggles, though, it becomes obvious throughout the song that she wants desperately to save the relationship, repeating "I will make it work" in the bridge like a mantra, almost as if her saying it enough times will make it come true. "rue" is an emotionally impactful, atmospheric track with a booming, catchy chorus that will not be leaving your mind anytime soon. Listen to "rue" wherever you stream. Photo by Isak Jenssen.
—
Paige Shannon
on September 4, 2020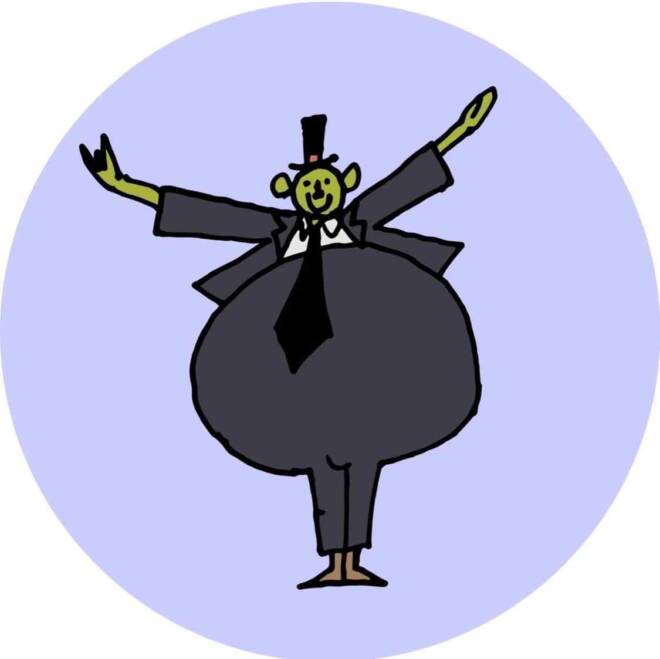 Bon Iver - AUATC
---
In "AUATC (Ate Up All Their Cake)," Bon Iver's crew is rolling deep: the voices of Bruce Springstein, Jenny Lewis, Jenn Wasner (Wye Oak), and Elsa Jensen meld together with Justin Vernon's helium-ed vocals into a buzzing confection of a track. A commentary on capitalism, its lyric "shed a little light" also winks at James Taylor's 1991 civil rights song.
At 2:22, "AUATC: is likely just a snack—following Bon Iver's release of "PDLIF" in April, speculation hints at the possibility of a forthcoming 5th album of acronym-based titles.
Available via Jagjaguwar, the track was released with an accompanying statement including its full cast of credits and a call for listeners to support five organizations "working tirelessly to foster a world that celebrates our humanity on a local, national, and global level." Also, be sure to watch the music video featuring exuberant movement and dance from Randall Riley.
—
Talia Pinzari
on August 14, 2020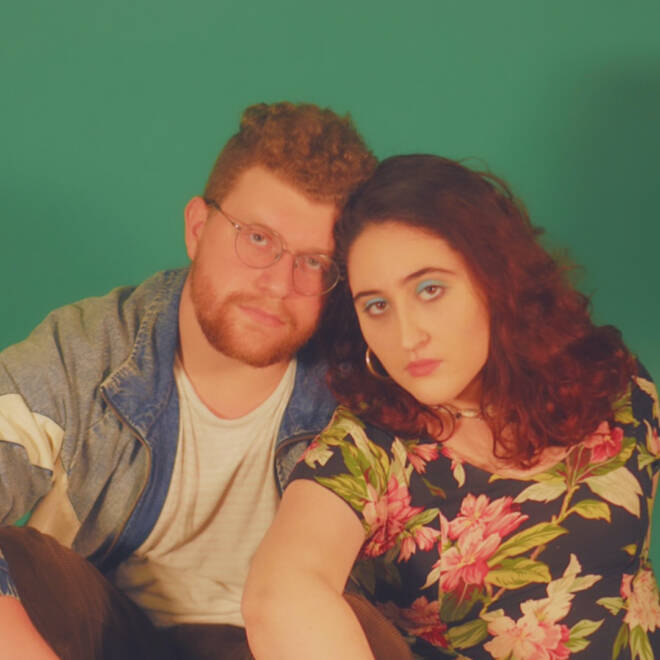 Fake Dad - Summer Hill
---
Emulating a Sylvan Esso style vocalization on this track, Fake Dad serves up a summer's end song with their latest single "Summer Hill." Dreamy, ethereal guitar ushers along the psychedelic and surrealist lyricism of this easy-going, vibey tune. "Summer Hill" is about living in the moment. It's an observational tune about the quick passage of time. 
The musicality, similar to the track's themes, is taking its time. It's gentle, plodding and intentionally placed. Andrea de Varona's vocals here sound exceptionally striking. In an effort to live in a headspace that appreciates daily beauty instead of wishing the day away, "Summer Hill" is a great reminder to stop and smell the roses (through your mask, of course).
Check out this new single from Fake Dad and listen to the rest of their tunes wherever you stream!
—
Hannah Lupas
on August 13, 2020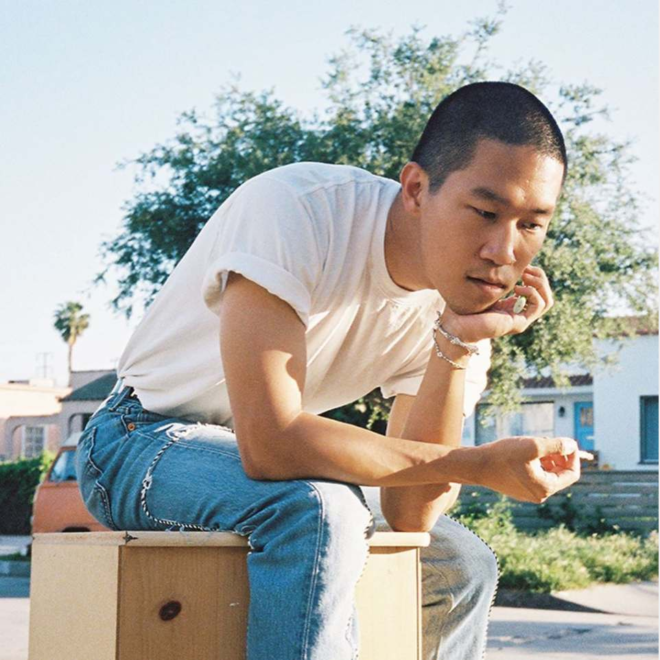 BOYLIFE - BOSTON
---
"thank u love u"— that's all boylife, aka LA artist Ryan Yoo, wrote when he released his newest single. 
"boston" has a nostalgic kind of texture, like the intimate grit of an old mixtape. It gives body to that stickiness we've all experienced from a song when it transports us back to a very specific time and place—a person, a scent, a state of emotion, a certain cast of streetlight. I've lived in Boston, but the magic of this song is that "Boston" can represent any place where you've dreamed in or dreamt of. With soft organ and reflective gospel-like call and response, it offers a reminder that the relationships and experiences we have in these places shape us for better or worse. For that, we can appreciate them, grow, and also let go with a simple "thank u love u."
—
Talia Pinzari
on August 13, 2020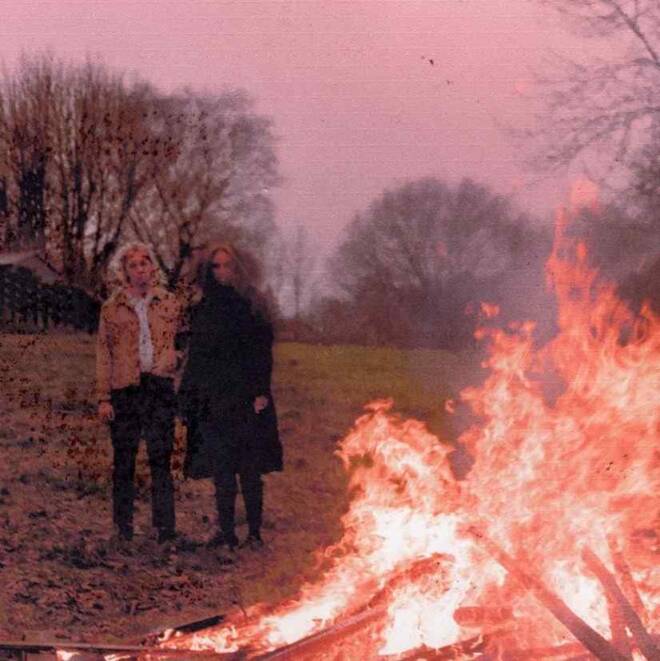 Jadu Heart - Burning Hour
---
Evolution is a natural part of being a musician, and tracking the evolution of an act from their first release through the rest of their career is one of the most rewarding aspects of following an artist. Some artists hop between genre and sounds as they see fit, incorporating new elements as a means to progress their sound or diversify their fanbase; others opt to take their initial approach and refine it, working within their existing soundscape to find new angles and methods with which to improve their art. When it comes to British dream-pop duo Jadu Heart, it seems that they have opted for the latter. "Burning Hour"—the sixth single from the duo's forthcoming sophomore effort Hyper Romance, out September 25—traffics in the same ethereal vocals and jangly guitars as a majority of tracks from their debut album, Melt Away. However, there are clear signs of artistic development on display throughout the track; the songwriting is more direct, there's less hesitation to be loud to get a thematic point across, and the duo's voices seem more complementary to one another than ever before. The end result is one of the most addictive singles yet from the duo and one that will keep expectations high ahead of the album's release next month.
—
Alec Bollard
on August 13, 2020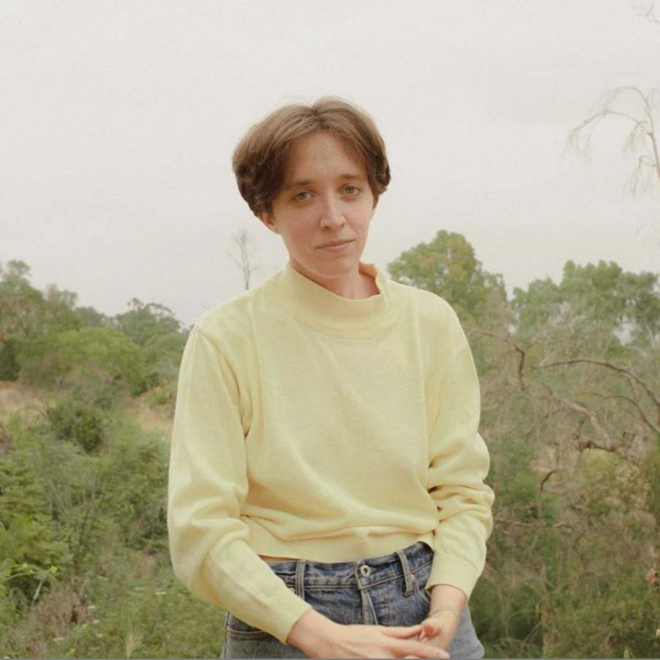 Lomelda - It's Infinite
---
It's funny how mornings are the most subject to routine. When I wake up, one of the first things I do is take my dog outside. The backyard is always shaded in the mornings, so we play a few rounds of fetch. My pup bounds after his beloved orange ball with so much single-minded joy that it blesses the rest of the day. That's how "It's Infinite" by Lomelda feels. The first two-thirds or so of the song weave metaphor, quantifiers, and disqualifiers together in lyrics that draw longing out of your heart. For a little while, you look at joy like a foreign object. Something compelling that you don't quite understand or half-remember from a dream. You wish you knew what it feels like, to feel like that. Acoustic guitar and keys gently tug your hand towards sunshine and adventure, but your feet stay stuck where they are. Around 2 minutes in, drums come in, your entire soul thaws, and you remember. Life is an art of creation. Joy without reservations feels like grass on your feet and sunshine on your back. How could you ever forget? It feels like chasing after a ball, only to return, and then experience the joy of a chase all over again. You're not happy because you feel like you should be, but just because you are. It's as innate as your name, and you know exactly how it feels. It's infinite, and rediscovery is inevitable no matter how long it appears to go missing.
—
Allison Hill
on August 12, 2020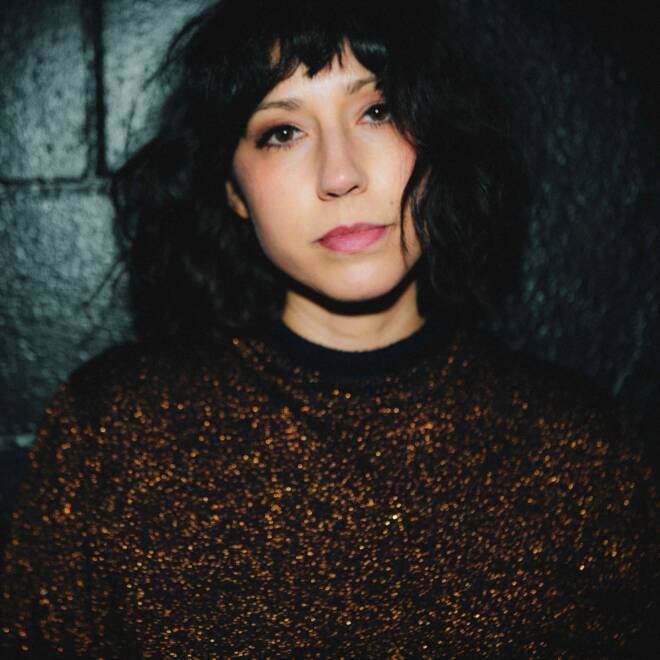 Deep Sea Diver - Lights Out
---
In the middle of the 2000s—which are also, despite my best efforts, referred to by some as the "noughties"—there was a brilliant onslaught of guitar-driven indie rock records that changed the direction of indie music for the remainder of the decade. To me, the guitar in the earliest albums by bands like Bloc Party, Wolf Parade, Yeah Yeah Yeahs, and Rilo Kiley feels uniquely, transcendently energizing. To me, it sounds like using an X-acto knife on a beam of sunlight, like sprinting through a suburban street at midnight. Probably partly because I spent the years 2004–2006 in an emotionally heightened state called "adolescence," but also partly because that generation of indie rock guitarists tapped into something special, I have spent the last decade missing that sound very much.
Or I should say, I just realized how much I have missed that sound. When you see a good friend for the first time in years, you often miss them even more right after you see them than you did before. That's what happened when I first heard "Lights Out," Deep Sea Diver's first single from their upcoming album, Impossible Weight. Bandleader Jessica Dobson's guitar work on this track not only provides an immaculate tribute to a forgotten corner of indie rock—it also aptly brings that sonic era into a comfortable relationship with the genre-flexible sensibility of indie music in 2020. About two and a half minutes in, the relentless gallop of Peter Mansen's drums falls away for a shocking 30-second dream-pop interlude, which, after filling time like a glittering balloon, explodes into the song's final cathartic guitar solo. Meanwhile, Jessica's vocals throughout the track act as its emotional barometer, shadowing the mood and providing whatever is appropriate, from an indignant shout to a carefree croon and everywhere in between. Overall, "Lights Out" sounds a (far from silent) alarm that Impossible Weight will be a force to reckon with in October.
—
Karl Snyder
on August 12, 2020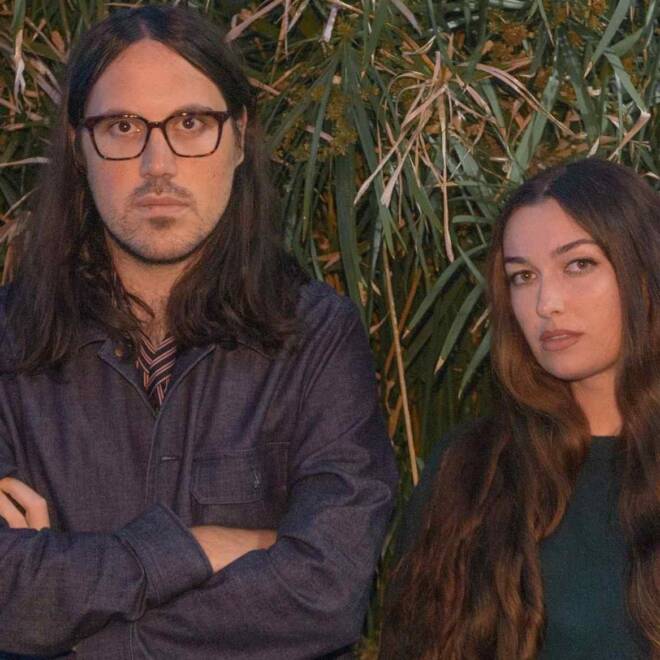 Cults - No Risk
---
"No Risk," the recent single from Cults, is a tribute to brave beginnings, and a testament to the power of dynamic manipulations. Through their expert instrumental arrangement, the band is able to communicate three unique interpretations of the same set of lyrics and take the listener on a complete journey. The first time through the chorus, the vocal is accompanied only by a piano. When the singer opens with the line "no risk, no believing or leading," there is a hint of doubt; like she's not yet fully convinced of the sentiment, and needs to say it out loud in order to believe. The second time through a driving drum beat bursts in, and it feels like the journey has officially begun; risks have been taken and there's no going back now. The final iteration mirrors the first, just vocal and piano. It feels like the protagonist is taking a moment to glance backward, both reflecting on how far they've come and recognizing the doubts that still persist.
To close out the song the drums return in all their inspirational fervor, and the singer delivers repetitions of the title, "no risk." Here, the song acknowledges that stepping into the unknown will always be frightening, but reminds us that such is the cost of new experiences which often prove to be worth the risk.
—
Emerson Obus
on August 12, 2020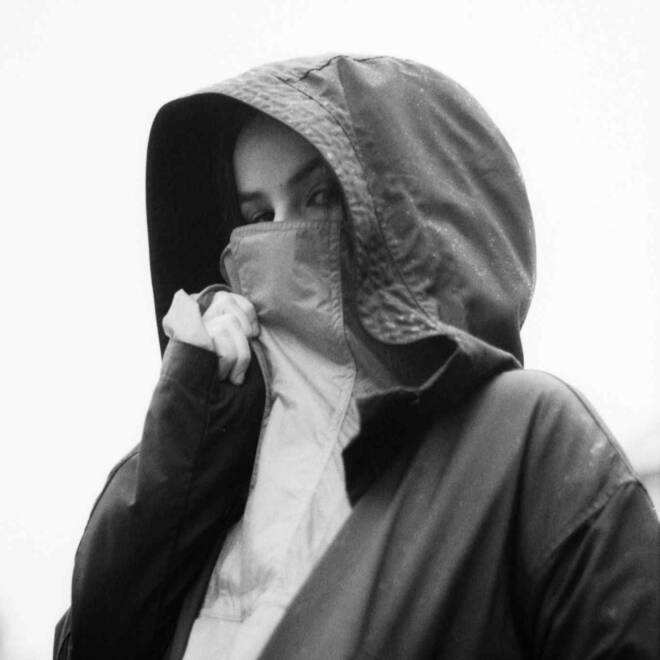 Ela Minus - megapunk
---
"We can't seem to find a reason to stay quiet," urges Ela Minus on "megapunk," a new single that propels revolutionary fight from its blistering opening line. The Brooklyn-based Colombian singer's staccato speech-singing over a trance beat manifests her passionate movement for change within us. Post-punk and new wave influences drive the hallucinogenic beat while her message on the current political climate sits in the heart of punk rebellion, drawing undoubtedly from her time as the drummer of Colombian hardcore band Ratón Pérez when she was just 12 years old. "When I wrote this song last year, I was worried it would lose context if not released immediately," she said on the track. "I could not have been more wrong. This is the perfect time to put this out. We have to keep going. Ánimo y fuerza." The track is accompanied by a hallucinogenic music video following her black, white, and pink punk aesthetic, and marks her second single released on Domino.
—
Ysabella Monton
on August 11, 2020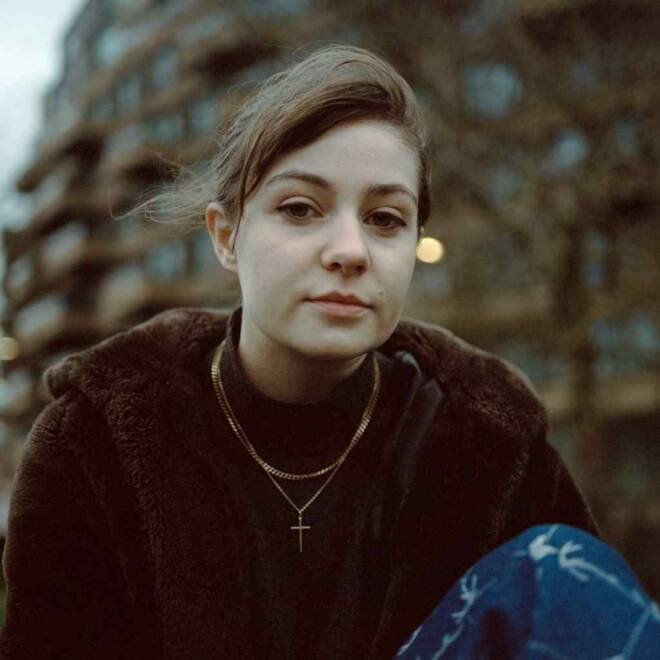 Biig Piig - Don't Turn Around
---
Biig Piig is the stage name of Irish-born, Spanish-raised, London-based singer-songwriter Jessica Smyth. The first I heard of Biig Piig was her single release "Switch," which came earlier this year, but, admittedly, I was late to the party. Known for her hip-hop beats and sultry vocals, Biig Piig has garnered millions of streams on songs like "Perdida," "Sunny," and "Vice City." With her unique blend of vocal techniques—transitioning from singing to rapping and back again seamlessly—on "Don't Turn Around," Biig Piig sticks to her guns. Maya Angelou famously said, "When people show you who they are, believe them." In her latest release, Biig Piig not only believes them, she lets them know where they stand, as she riffs, "I see you now, exactly who you are / No place for patience, no need to press restart."
If "Don't Turn Around" sounds familiar, it's because in this latest release, Biig Piig samples from Montell Jordan's iconic 1999 R&B track, "Get It On Tonite." Jordan's song had, in turn, sampled Jamaican-born Claudja Barry's 1976 soulful disco ballad, "Love for the Sake of Love," another iconic number. For "Don't Turn Around," Biig Piig collaborated with cowriters Joerg Evers, Jordan Reid, and Juergen S. Korduletsch, and producer JD. Reid. The result is an instant groove with just the right mix of nostalgic R&B and neo-soul, and a splash of disco, bringing the sounds of decades past into the contemporary genre-bending realm of indie-pop. Bet you can't listen just once.
—
Maya Bouvier-Lyons
on August 11, 2020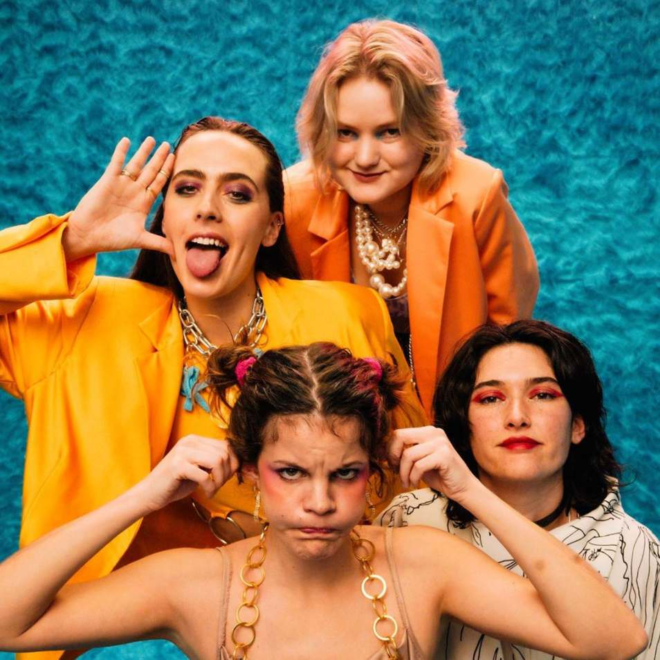 Hinds - Spanish Bombs
---
With love from Madrid, garage-pop band Hinds releases a wildly emotive and reverberant cover of The Clash's "Spanish Bombs." With their gorgeous Spanish accents and a more deeply rock-forward sound, the dream ladies of Hinds give the track a bit of refurbished energy. Bringing additional chaos into what is already a chaotic concept—the bombing campaign of several holiday resorts in southern Spain—the girls of Hinds holler and yelp into static-riddled darkness. This rendition of "Spanish Bombs" is the musical equivalent to the tenderness and fire of being a young, devil-may-care creature of living.
—
Laney Esper
on August 11, 2020