TOLEDO
Released on May 3, 2023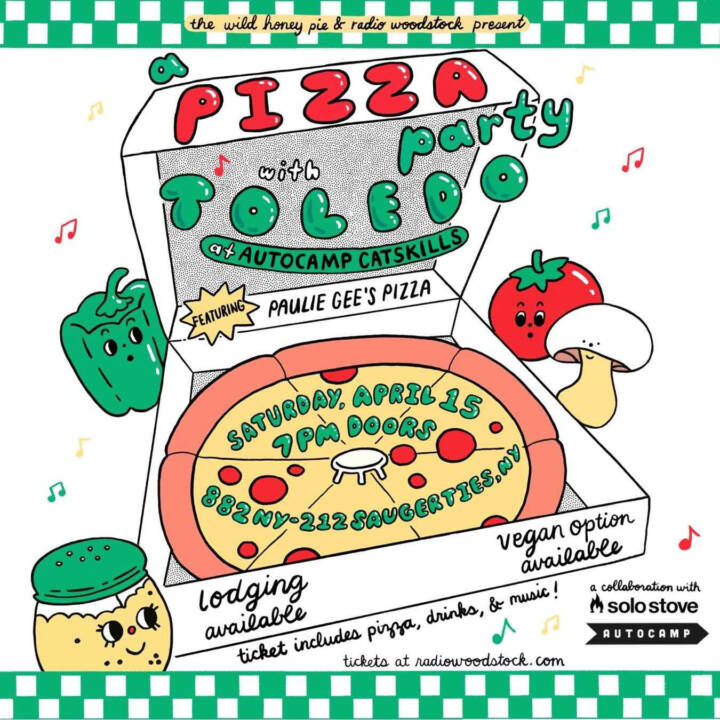 The Wild Honey Pie has been combining our passions for music and food with our Dinner Party series across the country since 2017. When I moved upstate to the Catskills, I wanted to give my new community something entirely its own to enjoy from The Wild Honey Pie and dreamed up our twist on the Pizza Party. We teamed up with our new neighbors at Radio Woodstock to make sure more locals were involved, invited my favorite Brooklyn pizza shop, Paulie Gee's, to handle our wood-fired pies, and decided the series would be a tour of the Hudson Valley and Catskills through local resorts and hotels starting with AutoCamp, for everyone near and far who wanted to enjoy the beauty of our community.
When it came time to launch the series with our partners at outdoor glamping resort, AutoCamp, we turned to our friends in Brooklyn band TOLEDO, who were slated to work with us in April 2020 when the pandemic hit. We had been listening to their music for years, hoping to work together, and this proved to be the perfect opportunity. If you missed the first Pizza Party, don't fret. We made music videos from the experience and have more planned. This is a monthly series and we invite you to come see us next time. Click here for future dates.
This would never have been possible without our valued partners at Radio Woodstock, Paulie Gee's, AutoCamp and Solo Stove. We had a great drink selection made possible by Sierra Nevada, Tip Top Proper Cocktails, Parch and Topo Chico, as well. Till next time!