Buzzing Daily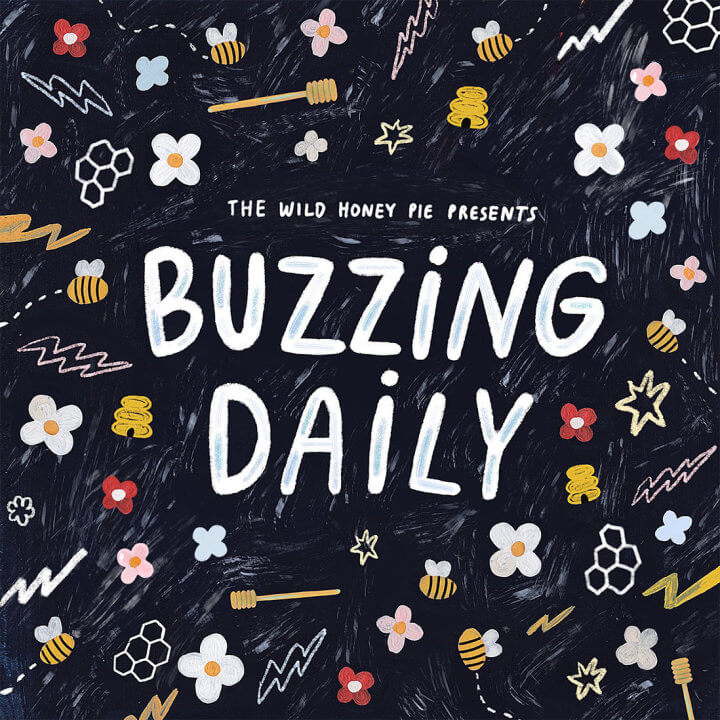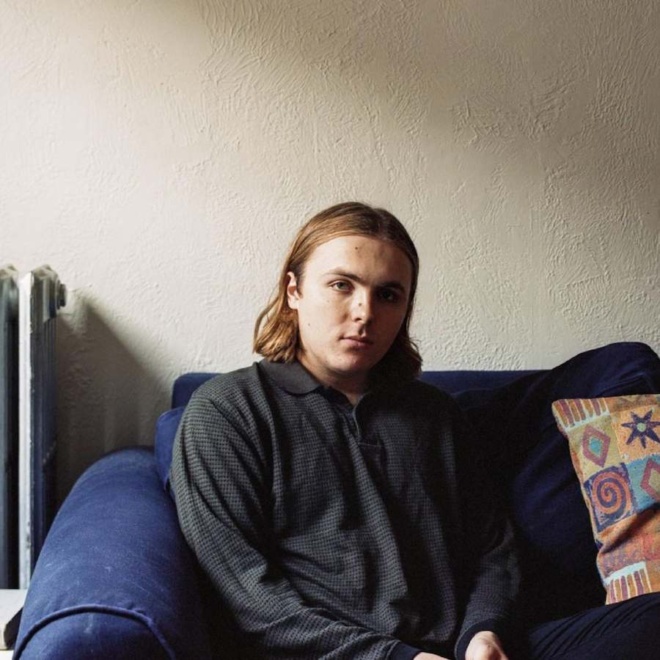 Will Orchard - Smoke Alarm
---
Opening with a gleaming piano that heightens Will Orchard's natural sense of magic, "Smoke Alarm" is just one of the several sweetly euphonic tracks on the Boston-based folk artist's latest release, I Reached My Hand Out. Soon diverted from focus, the nearly iridescent piano falls behind a gentle and welcoming acoustic guitar that echoes around Orchard's contemplative lyrics. The track ruminates on attachment and even obsession with people we don't actually know, creating preconceived notions that they are not guaranteed to fulfill. Orchard steps back to recognize his role in perpetuating an unachievable fantasy and realizes that our expectations can't be met if we aren't able to communicate them. As he describes "the pain of not knowing what to say," the track resolves into a cathartic instrumental break—the introduction of a mellow drum machine signifies a wistful turning point into self-realized understanding. As the words return, a sense of intimacy washes over the track; the subdued second verse is scattered with delicate swells of piano before building into an outro that is as enchanting as it is emotional. Among the collection of heartfelt tunes presented on the record, "Smoke Alarm" is just a glimpse into the vulnerability and awareness that Will Orchard attains on I Reached My Hand Out. Photo by Tim Ryan.
—
Jenna Andreozzi
on May 19, 2021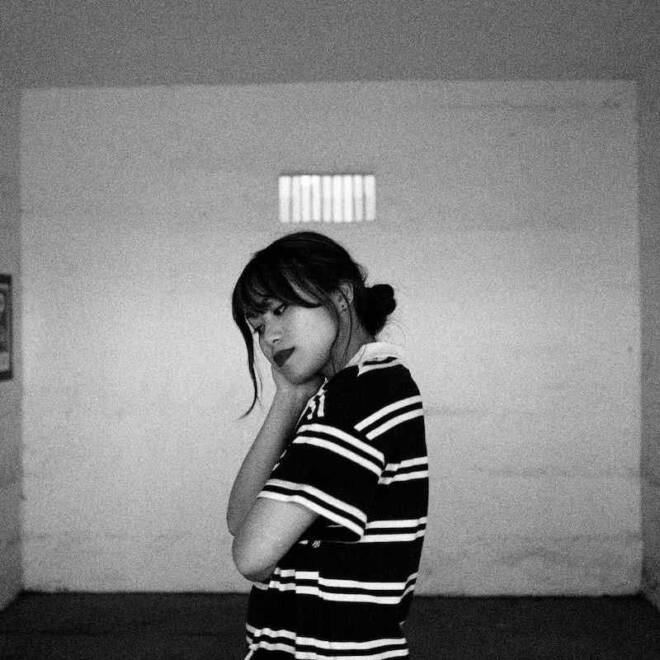 cehryl - paprika
---
From Hong Kong to the UK, then to Berklee College of Music in Boston, followed by a stint in LA and now, full-circle back to Hong Kong, singer/songwriter cehryl is well-versed in leaving things behind. Having lived across three continents at just 25 years old, time and transience permeate throughout her music. In time machine, her new beautifully vivid and deeply nostalgic EP, cehryl weaves together memories from her past in a poetic and intimate six-track record. time machine takes us through past relationships, faraway places, and fleeting memories. "paprika" is one of these memories and can stand in for many things. "You were my neighborhood / You'vе crossed the line, gonе for good / You were my lullaby, too" she sings with a soft and soulful voice that falls somewhere in between folk and R&B. Whoever or whatever "paprika" was, it's clear that it is now gone—tucked away in a nostalgic past. time machine is already an intimate record, but "paprika" requires an even closer listen. You can hear the sound of the metal strings from her acoustic guitar as if you're in the room with her.
It's interesting to note that she lists the cinema of Wong Kar-Wai as a source of inspiration, as well as the music of Avril Lavigne, which makes perfect sense since, like her own music, both artists are best enjoyed on a rainy day. Photo by Jonny Ho.
—
Alejandro Veciana
on April 16, 2021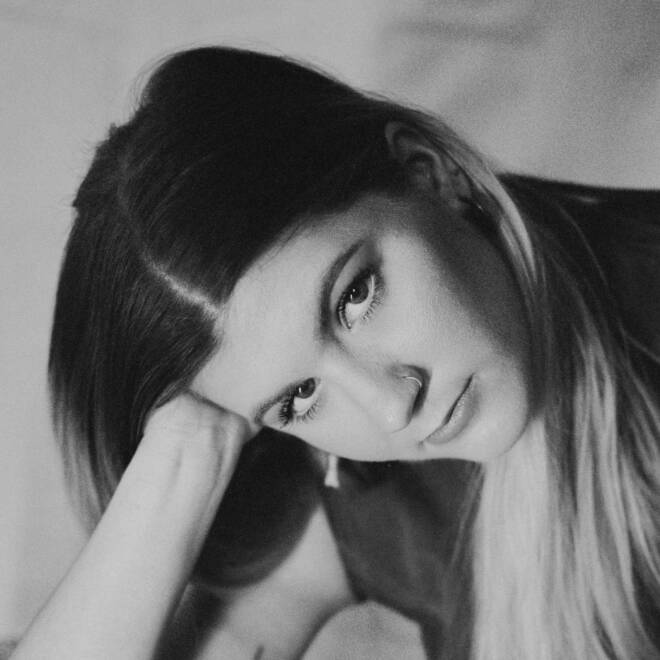 Gatlin - What If I Love You
---
Indie singer/songwriter Gatlin has a knack for producing engaging and palatable pop tunes with lyrics that shoot to kill. Don't let the sparkle and shine of these glimmering melodies fool you: Gatlin's poetry packs a punch. Her most recent single "What If I Love You" is a glistening summer pop song. Singable, fun and painfully relatable, "What If I Love You" expresses so much unruffled sincerity that you almost forget you're listening to a song that isn't asking you to take it too seriously. But this is something I've always admired about Gatlin's songwriting; it's sneaky in a good way, with her talent for lacing delicate, emotional vulnerability into these colorful, dancy tracks. Perhaps the tone of this track is so bouncy to contrast the speaker's resolve over their unrequited feelings. The music is what's keeping her buoyant amidst the turbulence of her feelings. Regardless of whether or not the juxtaposition was intentional, it resonates. Give Gatlin's new single "What If I Love You" a listen and I promise it'll be spinning 'round your head all day long. Photo by Hannah Gray Hall.
—
Hannah Lupas
on April 16, 2021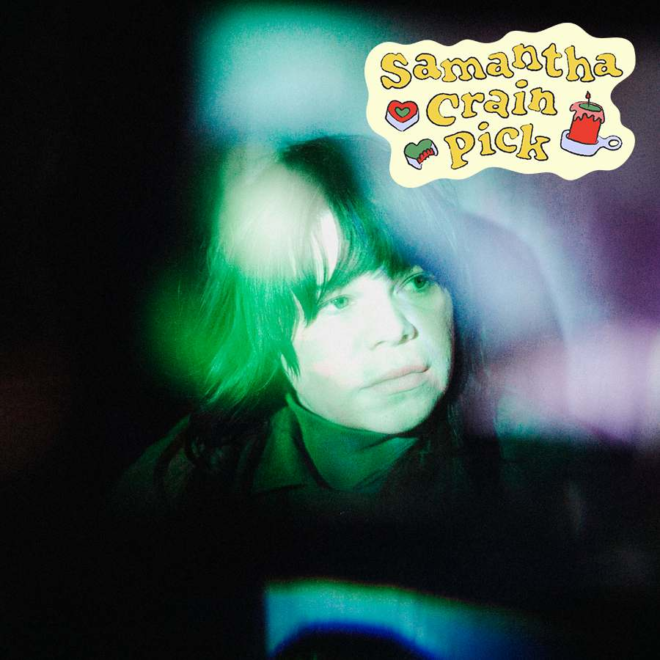 Samantha Crain - Malachi, Goodbye
---
This week, Choctaw singer/songwriter, musician and producer Samantha Crain takes us on an intimate walkthrough of her newest EP, I Guess We Live Here Now. Follow along as she discusses the meaning of each track and her journey crafting them. Photo by Dylan Johnson.
—
This is a pretty straightforward kiss-off song. Rarely do we possess the ability to have such clarity and assuredness in a situation, let alone in a relationship, but the relief that can come when we do find and express that certainty is encompassing. Though we don't always find the strength to access it, it is truly empowering to find that we have an overwhelming amount of bridle over our timeline and decisions. — Samantha Crain
—
on April 15, 2021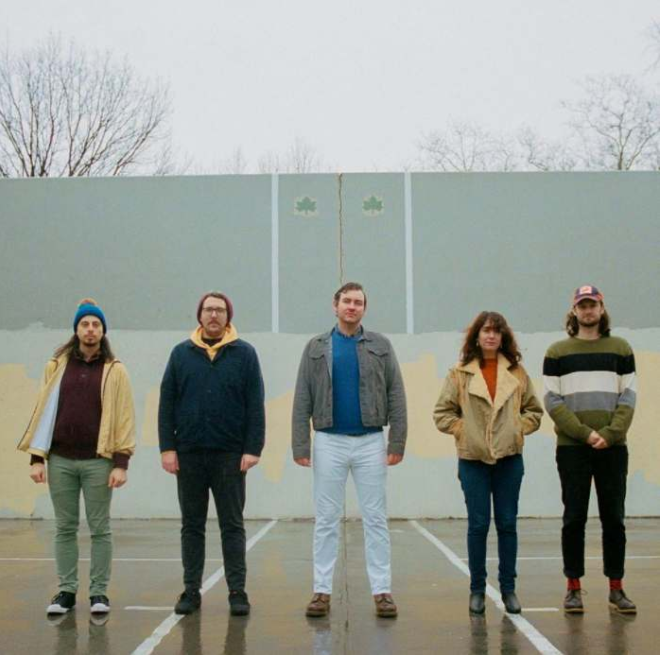 Moon Hound - Persephone
---
The days are growing longer, the sun is shining a little brighter, and, according to the Ancient Greeks, the goddess Persephone has successfully returned from her annual six-month residency in the underworld. Spring is here, and Ridgewood, Queens-based band Moon Hound has released their debut single, named for the chthonic queen herself, "Persephone." Bright sounds of chimes, hand drums and a few plunks of a palm-muted guitar welcome the listener to the track before singer Ian McNally enters, offering machinations on the myth of the song's namesake. Right around the halfway point, the guitars begin to soar, the drums get a whole lot bigger and the bouncy melody expands into a true rock and roll hook. With graceful and captivating transitions throughout the song, Moon Hound cleverly pays homage to the myth's theme of transformation. This track is a perfect springtime jam to welcome Persephone back to the world of the living. Photo by Sara Laufer.
—
Emerson Obus
on April 15, 2021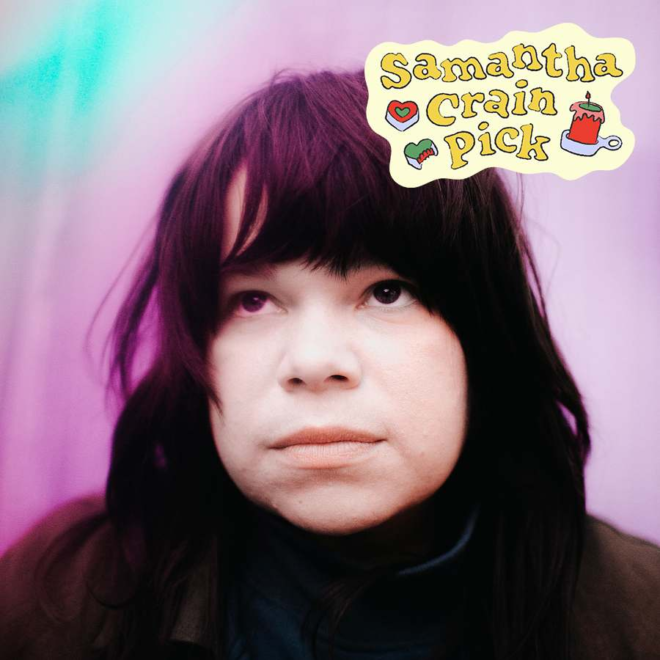 Samantha Crain - There Is No Mail Today
---
This week, Choctaw singer/songwriter, musician and producer Samantha Crain takes us on an intimate walkthrough of her newest EP, I Guess We Live Here Now. Follow along as she discusses the meaning of each track and her journey crafting them. Photo by Dylan Johnson.
—
I started writing this song, initially, to channel my feelings about being stuck in and around my house quite a lot during the pandemic quarantine and ongoing social distancing. It journeys through my evolution from feeling isolated to feeling peaceful and unconstrained. It mirrors, in many ways, the age-old trick of "looking at the bright side of things". To have no mail could be seen as being forgotten or feeling unproductive, or it could be seen as being left alone, being gifted a bit of freedom. My goal, increasingly in life, is to keep getting better at turning each thing over and over in the hands of my mind and heart to see each side, to see each truth, and hold it all at the same time, and choose the one that brings me armistice. — Samantha Crain
—
on April 14, 2021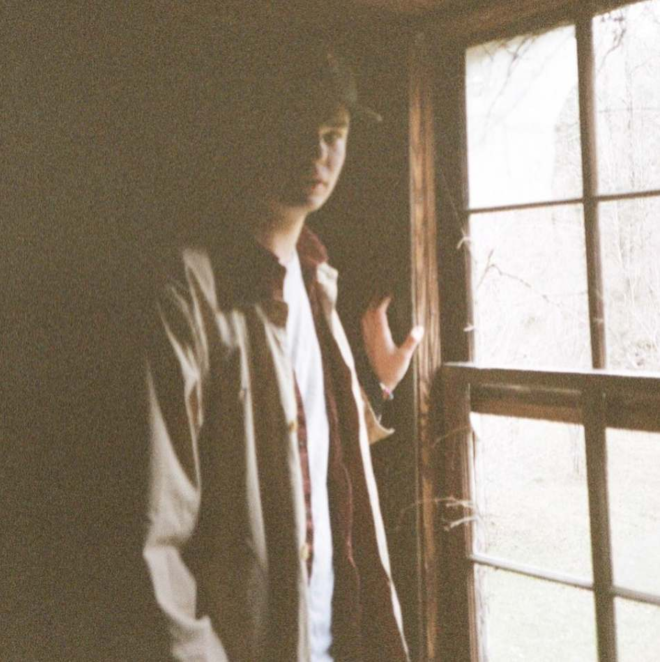 Billy! - Palmetto
---
"Palmetto," simply put, is a love song. It's a song of honesty and companionship. But it isn't a love song written for a beloved, it's for a friendship. Lyrically and sonically, the arrangement captures the product of surrounding yourself with friends who love and understand you like family. Confronting the hardships of growing up alongside these loved ones, Billy! sings, "We drove around here / 'Til holes were in our tires and our jeans / They can't relate much / To the things that me and you have seen." Billy!'s southern Birmingham roots mixed with DIY Nashville influence shine to craft a modern alt-country masterpiece laced with the comfort of home. Written on his little sister's bedroom floor at the peak of summer, the song didn't take much time to write. Billy! exclaimed, "I really wanted to make a guitar part reminiscent of an Irish folk ballad, and had never really experimented with open tunings or anything like that, but when I sat down to write, it all came very naturally!"
Echoes of glass slides on the guitar, warm trumpets, sweet harmonies and knocks and picks on the acoustic provide for a full sound and an organic flow. As Billy! repeats, "Go to sleep my brother / I miss you so much / when you wake up in the morning / the glory days will have begun," a steady instrumental build-up emphasizes his optimism for days to come. Not only are we in awe of the instrumentation, but it's the hidden memos that make the song so captivating. Friend-filled choirs, sounds of roommates washing dishes, cats sneezing and distant joyful giggling add to the thoroughness of the song. At just 20 years old, Billy!'s first release is the product of years of growing a supportive community. Despite "Palmetto" being an early single, Billy!'s iteration of persistence through hard times is mature, personable and detailed. Photo by Keely Caulder.
—
Keely Caulder
on April 14, 2021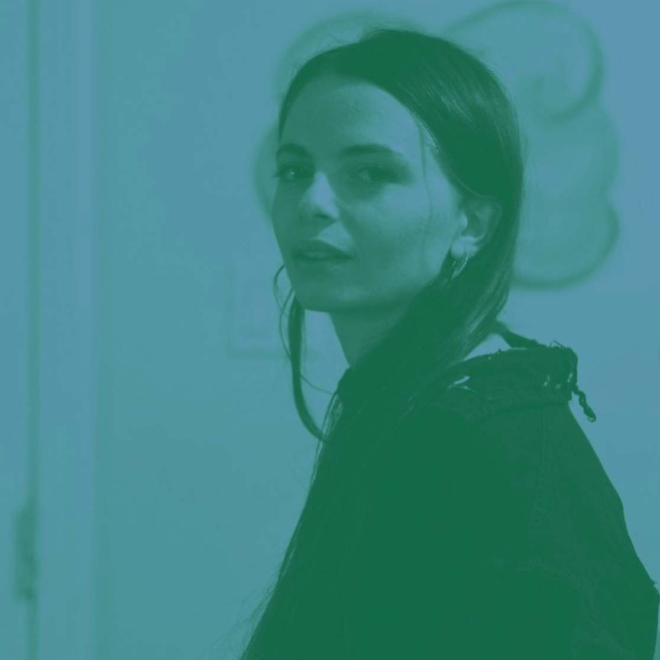 Gracie Gray - alienlover
---
Tinkering in with soft, muted keys and the far-away voice of her brother, LA-based Gracie Gray's new single "alienlover" encapsulates the otherworldly. This track materialized from a dream she had where she heard her own voice amidst her sleep. "alienlover" is a pristine example of what happens when we listen in carefully to the worlds that we live in when we are not awake. Barreling in with grace, a distorted electric guitar draws the listener into the foreground of a dream landscape wherein love between an earthly woman and an alien cannot exist. Gray's voice rolls over iterations of itself, "I'll love someone else instead." Photo by Cashmere Studio.
—
Laney Esper
on April 14, 2021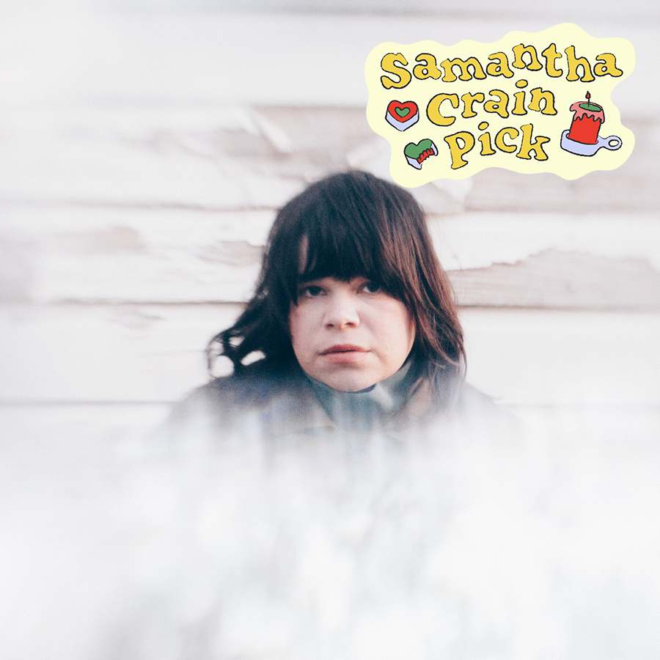 Samantha Crain - Bloomsday
---
This week, Choctaw singer/songwriter, musician and producer Samantha Crain takes us on an intimate walkthrough of her newest EP, I Guess We Live Here Now. Follow along as she discusses the meaning of each track and her journey crafting them. Photo by Dylan Johnson.
—
This song is an anthem of sorts about the possibility of each new, seemingly meandering and unimportant day. I use the reference to Bloomsday, born from James Joyce's "Ulysses", as a substitute for any day, just a normal, nothing special, any day. The song is meant to inspire the agency we have over our participation in any day. Although it feels like much of the time we are being pulled along in life, we have the instrumentality to find within us light and belief. — Samantha Crain
—
Ysabella Monton
on April 13, 2021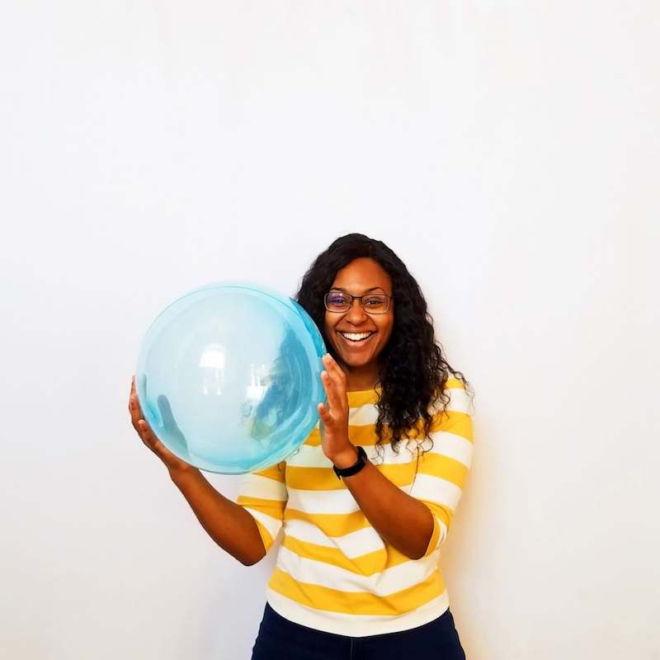 Shayla McDaniel - Let Me Breathe (How To Break Our Hearts)
---
A delicate guitar descends as a robust beat kicks in, echoing the complex sentiments of Shayla McDaniel's latest single "Let Me Breathe (How To Break Our Hearts)." The Knoxville, Tennessee-based artist's solemn vocals open with unsure musings on the state of her relationship, seemingly having one foot in and one foot out. As a driving beat (written by Deep Sea Diver's Peter Mansen) goes on and a bright electric guitar strums in, you can feel McDaniel's disorienting emotions.
A delay-filled arpeggiated guitar is introduced just as McDaniel's thought process starts to disentangle. It becomes more tenacious as she grows more self-assured, peeling the veil to recognize the actual nature of her relationship: "We're living in a nightmare of a dream / You're stealing all I have left of me."
This all comes to a definite realization when the chorus sweeps in. The drumbeat opens up, triumphant horns make their way in the background and McDaniel's voice swells lively in the front and center, leaving us with a painstaking question: "I don't need you / You don't need me / Why do we keep doing these things?" She invites us to look deeply and evaluate: are the relationships we are in actually nurturing, or instead have they become something unhealthy that we only hold on to out of habit? Photo by Shayla McDaniel.
—
James Ramos
on April 13, 2021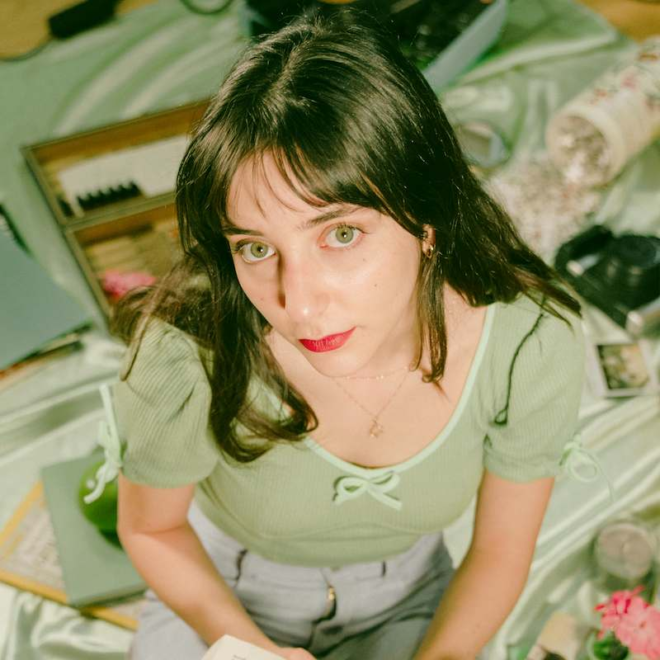 Dafna - Sweeter
---
John Casey held Emily Franklin in his skinny arms atop of the park near their neighborhood. John was home for the weekend visiting his parents, but they were still asleep at the crack of dawn, which is when John sent Emily an iMessage from outside her front door just a house down, asking if she was ready. The truth was that Emily had never been more prepared than she was at that moment, well-rested on account of going to bed by 9 PM the night before, giddy with anticipation. A long Saturday with family could wait. With their young beating hearts in tow, they strolled to the park, listened to the birds chirping. "You make me feel sweeter, like I'm no longer a burden," Emily said after a silence that peacetime in 1940 couldn't hold a flame to. John didn't speak but held her even closer as they watched the sunrise. "But it makes me feel weaker when you hold me," Emily finished. John felt one or two of Emily's tears splash upon his right wrist as they trickled down and off her face before he asked Emily if he could play a new song he liked: "Sweeter" by the artist Dafna. Photo by Jivan West.
—
Mustafa Abubaker
on April 9, 2021