Buzzing Daily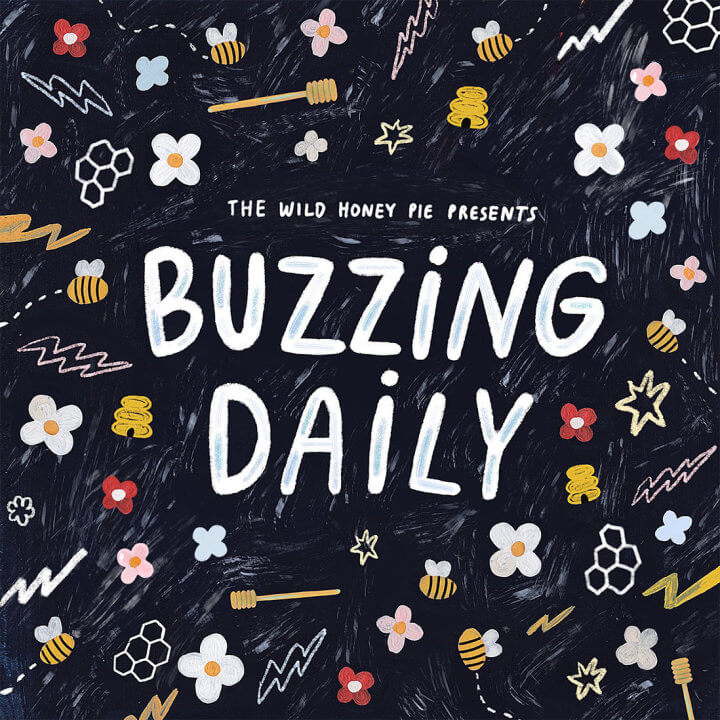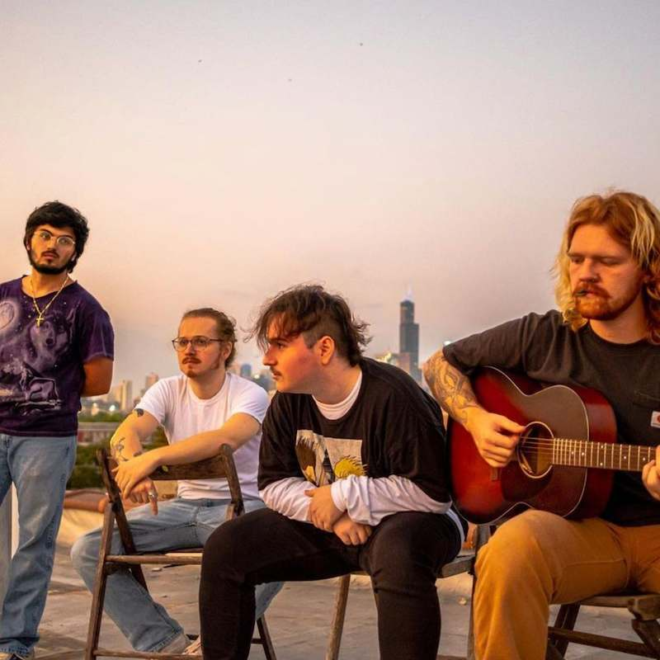 llo llo - Let Me Know (pt. II)
---
"Let Me Know (pt. II)" is a track that just breathes over its listener. It moves over each space it finds its way in like a perfect breeze wraps around the shoulders of the main character of a quintessential coming-of-age movie montage. Chicago dream-grunge band llo llo has created a musical landscape in which instrumentals feel like catharsis and euphoria meeting in an embrace. Reminiscences of Tame Impala and even Cocteau Twins come through in echoing vocals and simple, yet emotionally poignant lyricism. "Can I come over today? Let me know," llo llo wrings out over a subtle and consistent groove that captivates and thrills. Photo by Mike Monaco.
—
Laney Esper
on September 1, 2021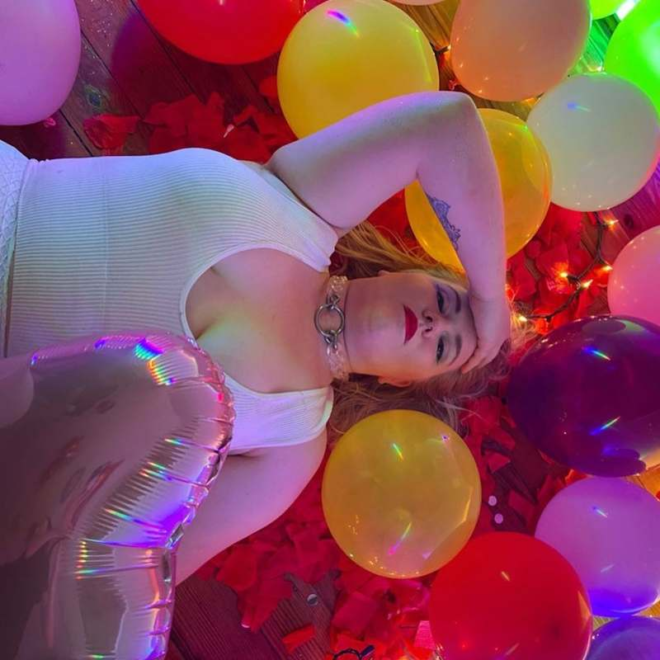 Tenderheart Bitches - Pieces
---
"Pieces" is the second single from indie rock band Tenderheart Bitches (THB), the musical project of DIY-inspired musician, lyricist and experimental classical composer JL Marlor. While their debut single "Blood Orange" was a slow—but oh-so-satisfying—burn, "Pieces" comes flaming hot out of the gate, with tight guitar riffs and pointed percussion setting the pace for the "body dysmorphia bop of the summer." With lyrics inspired by a lifetime of struggling with body image and perception, "Pieces" is an anthem of self-love and self-acceptance sung from a place of earnest and hopeful longing. JL has spoken openly and extensively about her own journey, as well as about the problematic stances on bodies perpetuated by society and popular culture. If "Pieces" is any indication, THB has arrived on the indie rock scene with something serious to say while finding a fun way to say it (the music video, which is more than worth watching, features glitter, balloons, drunken stumbling to the fridge and some fantastic cinematic work from an all-queer team of creatives). Catchy beyond belief, this song will have you tapping your feet and wanting to dance and smash the heteronormative patriarchy all at once. It will also probably get stuck in your head for at least a few days, which isn't necessarily a bad thing. Photo by Benite de Wit.
—
Maya Bouvier-Lyons
on August 26, 2021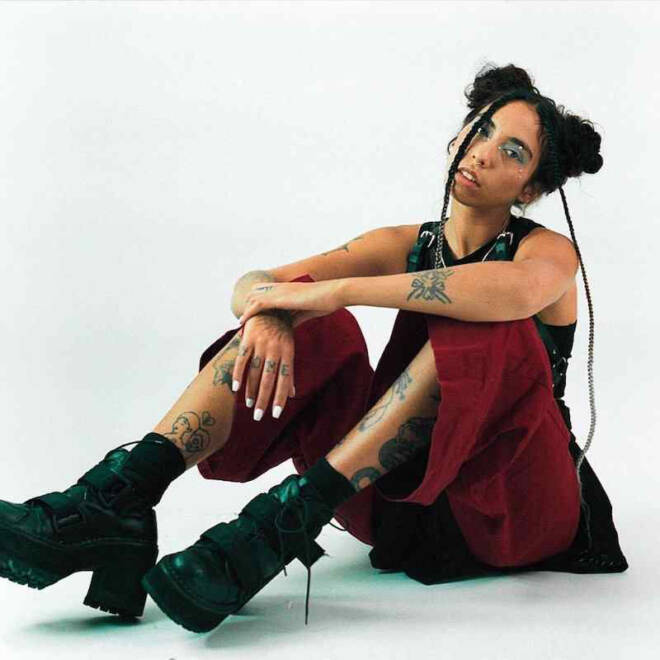 Indigo De Souza - Kill Me
---
Indigo De Souza's mission to find joy and light while dealing with the hardships of being a human continues as she gears up to release her upcoming sophomore album Any Shape You Take. After two three-track EPs and a single called "Nomoah" in 2018, the Asheville artist then put forward her self-released first full-length I Love My Mom in that same year, on which she examined her loneliness and confronted mental health struggles and the various forms that love can take. Those ideas bleed into her new music as well, but in this new effort, De Souza takes them on with a more collective tone. Of the upcoming release, "Hold U" is an invitation into a warm community that celebrates and embraces everything that a person can be, while in "Real Pain," she shares the anxieties that form while trying to find genuine connections and the compassion you need to hold for yourself.
Her explosive first single "Kill Me," though, is a clear example of her humorous, smart lyricism and continuous energy. It's filled with charming self-deprecation, emotional leftovers from an all-consuming relationship and a search for relief. Her clear, fearless voice hits steadily as she cheerfully sings about an unhealthy attachment: "Baby, darling, devil, I love you / I love you, I love you / Kill me in the morning." For her, death is a positive escape compared to the exhausting state she barely manages to exist in. The admissions only become bolder and firmer as she charges on: "No one asked me to feel this fucked up/ But here I am, fucked up." As the music video mirrors, De Souza seems to be happy in acknowledging that darker truth. Her open-book perspective and endearing candidness shine through vividly and are nothing but welcomed. Any Shape You Take comes out this Friday, August 27 via Saddle Creek Records. Photo by Charlie Boss.
—
Meredith Vance
on August 25, 2021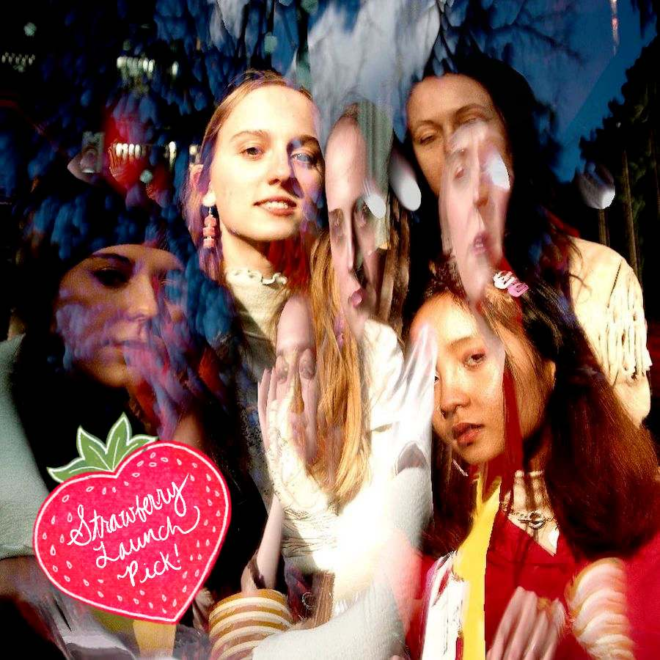 Strawberry Launch - Fork
---
Each day this week, New York-based psychedelic indie-pop quintet Strawberry Launch offers insight on tracks from their debut self-titled EP. Follow along as different members offer insight to the background and songwriting process of four tracks in their own words. Photo by Will Montgomery.
"Fork" is one of the most upbeat, danceable songs on the EP. It's a commentary on the strange world of online dating and how it skews our perception of ourselves and others. It's an extremely fun song to play, loaded with chromaticism and glitched-out synth melodies. Tiger [Darrow]'s production brought it to a new level, with the addition of strings, call and response in the vocal tracks, and drone synths. "Fork" is the type of song that always gets the crowd amped up whether they know it or not. —Abby, Strawberry Launch

—
on August 20, 2021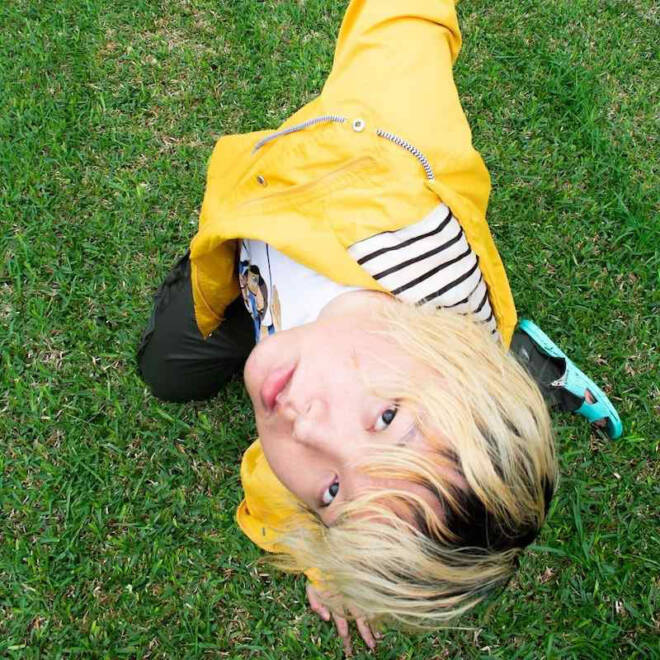 boywithahalo - Dontsaveme
---
Lo-fi ukulele strums and distant hums introduce boywithahalo's "Dontsaveme" with such gentleness, you may not notice that he's voicing the anxiety rooted in his mind. The soft tune echoes the sentiment of sitting alone in your room, strumming chords in a futile effort to make time pass faster while sitting idly at the whim of factors out of your control. While it's a feeling 2020 has imparted on us all, there's an added layer for boywithahalo, who sings of staying at home because simply existing as an LGBTQIA+ Asian American during this pandemic is dangerous; "It feels impossible to be safe out there" is a fear I personally know too well. Hauntingly, the lyrics for the track were written in September of 2020, long prior to the massive influx of anti-Asian hate crimes. "It's scary how all of my fears became true," boywithahalo has said on the track. And while scary, it's sadly not surprising, foretold by subtle changes in the ways I was treated as early as January 2020, "kung flu" jokes made to my face, people eyeing me on the train and moving further away.
But in the final minute, a commanding drum beat and lofty reverbed guitars join his choir-like vocal layers as the track fades out on a more assertive and hopeful note. It'd be careless to say that just because the news cycle is no longer saturated with anti-Asian hate crimes, things have gotten better. With the vulnerability of artists like boywithahalo, though, it's not impossible to believe that they can.
—
Ysabella Monton
on August 20, 2021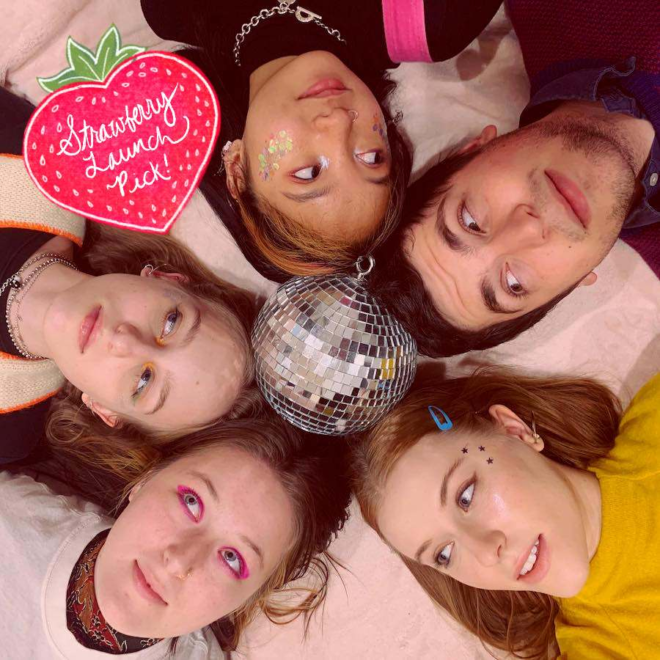 Strawberry Launch - Sophie
---
Each day this week, New York-based psychedelic indie-pop quintet Strawberry Launch offers insight on tracks from their debut self-titled EP. Follow along as different members offer insight to the background and songwriting process of four tracks in their own words. Photo by Will Montgomery.
Over quarantine, I saw that an old flame of mine was in a new relationship a few months after we had been together. So I found myself looking through her Instagram and comparing myself to her, wondering what she was like...and the words just poured onto the paper. When we started to build the song I was unsure about the dissonance in the guitar chords, but it really enhanced the conflicting feelings in this song—of wanting a past lover to be happy but not happy enough to forget you. And since we finished writing this during quarantine, it's such an interesting way to encapsulate that time period. The drop of the guitar into the first chorus is probably my favorite "sound" on the entire EP. — Riiza, Strawberry Launch
—
on August 19, 2021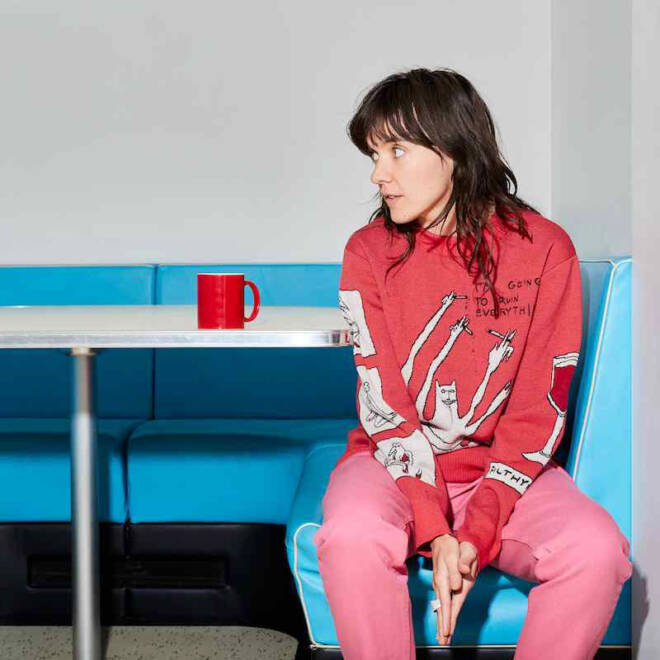 Courtney Barnett - Before You Gotta Go
---
Courtney Barnett recently delivered her second single, titled "Before You Gotta Go," off her upcoming record Things Take Time, Take Time. It's a heartfelt, bouncing track that acts as a reminder that hurt is never the goal out of an argument. Barnett's charming and steady voice holds a sense of gratitude as she explains to the other person what they really mean: "You're always on my mind / If something were to happen my dear / I wouldn't want the last words you hear to be unkind." The spinning instrumentals provide a smooth momentum as she thoughtfully recaps the end of the fight. The track pulls you into a reflective space of your own just like most of Barnett's music has the power to do. It takes a slight detour compared to her first single "Rae Street," which is more reminiscent of her 2017 collaboration project with Kurt Vile, Lotta Sea Lice. As always though, Barnett leaves space for everything to breathe and be absorbed. While the track fades out, there's no blame or passive-aggressiveness left, only an effort to have perspective and appreciation for someone else. Things Take Time, Take Time officially comes out via Mom + Pop on November 12, 2021. Photo by Mia Mala McDonald.
—
Meredith Vance
on August 19, 2021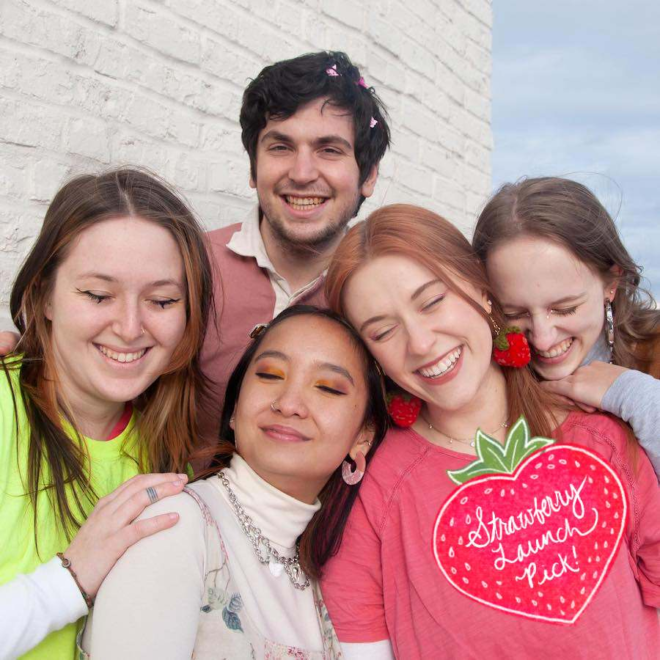 Strawberry Launch - That's on Me
---
Each day this week, New York-based psychedelic indie-pop quintet Strawberry Launch offers insight on tracks from their debut self-titled EP. Follow along as different members offer insight to the background and songwriting process of four tracks in their own words. Photo by Will Montgomery.
"That's on Me" is a longtime fan favorite, and it's always such a surreal feeling to see our own crowd singing the lyrics right back at us. It's a simple song instrumentally with not many chords, but still one of my favorites to play because of the emotions that fly through the song. Due to its instrumental simplicity, I was really excited to see how we could use the studio and Tiger Darrow's production to elevate the song. With its swelling effects, stereo sound and vocal stacking, I'm extremely proud of the final product and feel like it is an excellent representation of our newly matured Strawberry Launch sound. — Taylor, Strawberry Launch
—
on August 18, 2021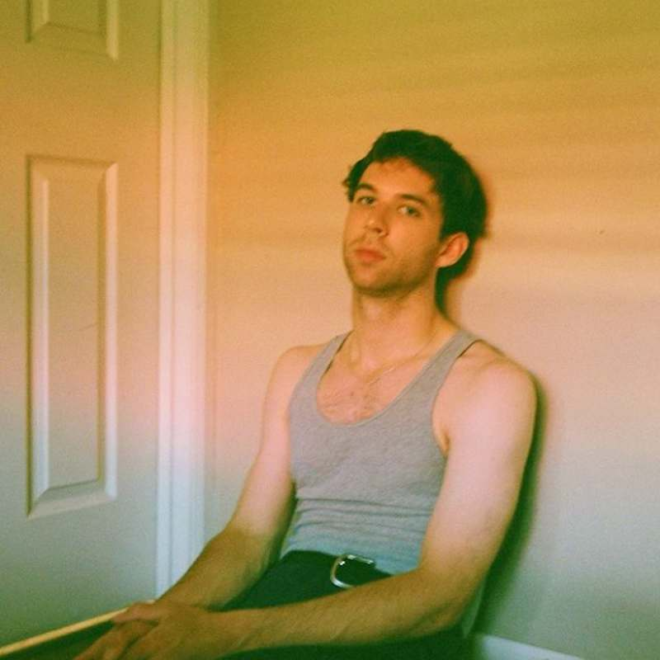 Nolan Garrett - Finish Line
---
Nolan Garrett's latest single "Finish Line" breathes life and meaning into the word "warm." The lyrics are earnest and sweet, delivered in a stilted, lilting, half-hesitant voice that slowly finds itself transformed into a steady forward current. Each verse is a confession of, perhaps not love, but certainly tenderness nestled amongst gentle acoustic guitar arpeggiations. Synth flourishes fill the spaces between words, like a feeling you can't quite name rising up and up until it sits just underneath your tongue. It's a visceral, blushing and intense, yet temporary feeling. That's what "Finish Line" sounds like: a song so warm you can't help but feel it in your cheeks. It's like laying in the grass at the park on a hot night late in August. The air is warm and humid, and it sticks on your skin like glitter. You're so at peace, you almost might be alone if not for the warm body breathing next to you. You meet their gaze and think about how you might experiment with vulnerability, trading secrets and smiles under clouds and stars. Or maybe you'll just hold their hand and watch the breeze blow the clouds across the moon without saying a word. You almost wish you could stay here forever, listening to the cicadas chitter and feeling warmed deep into your bones. Soon enough, though, it'll be time to get up and move on. But not yet. In the meantime, you think to yourself, "I'm excited to see where this goes. I'm excited to see how we grow."
—
Allison Hill
on August 18, 2021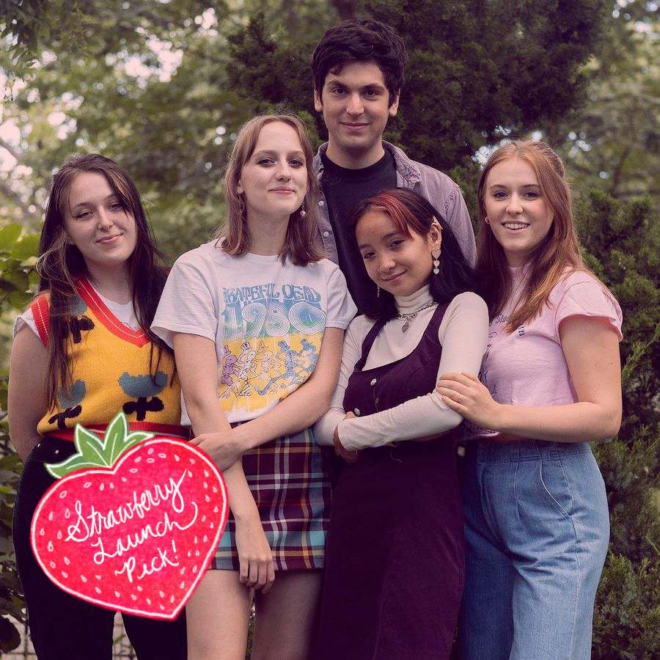 Strawberry Launch - Crystal Eyes
---
Each day this week, New York-based psychedelic indie-pop quintet Strawberry Launch offers insight on tracks from their debut self-titled EP. Follow along as different members offer insight to the background and songwriting process of four tracks in their own words. Photo by Will Montgomery.

I wrote this song one Summer as just a random instrumental. I was bored at home most days and wanted to experiment more with recording my own music since that's basically what I'm in school for. It wasn't anything serious and there's really no deep meaning for the song, I was just messing around with a couple chords and layered a bunch of stuff on top of it. It sounded very glittery to me, which is why I came up with the name. We started playing it in Strawberry Launch when trying to write new songs. At first, it was tricky to try to implement it into a full band, but I'm so happy with what it turned into; it's probably my favorite track on the EP and super fun to play live. — Matrianna, Strawberry Launch
—
on August 17, 2021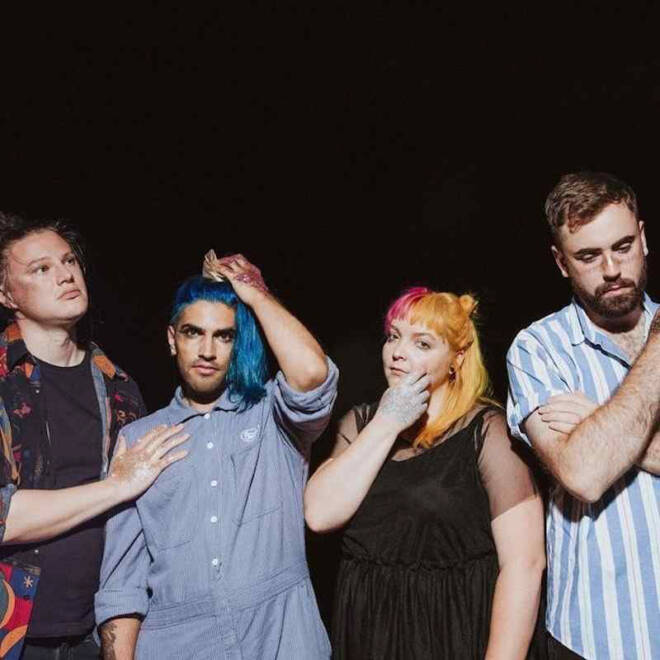 Basement Revolver - Skin
---
A wall of distortion and feedback introduces the newest track from Ontario quartet Basement Revolver. "Skin" is a dream-pop, shoegaze-inspired track that could hold its weight next to veterans of the genre like Beach House and Slowdive. With Chrisy Hurn's dreamy vocals atop of building guitars and massive sounding drums, the song feels like simultaneously floating and sinking into the floor. From their first release, Basement Revolver's lyrics have presented an emotional and introspective look at the world, and "Skin" is no exception. The track meditates not only on self-image but the way in which others affect the way we feel about ourselves and our bodies. With the burning chorus lyric "I wanna feel at home / In my skin, in my skin," the song hits on the important connection between our minds and our physical bodies that is still too often overlooked. The music video for the track is a reflective reverie that reinforces the themes of the song and deepens the imagery created. Photo by Steph Montani.
—
Sofia Soriano
on August 17, 2021