Buzzing Daily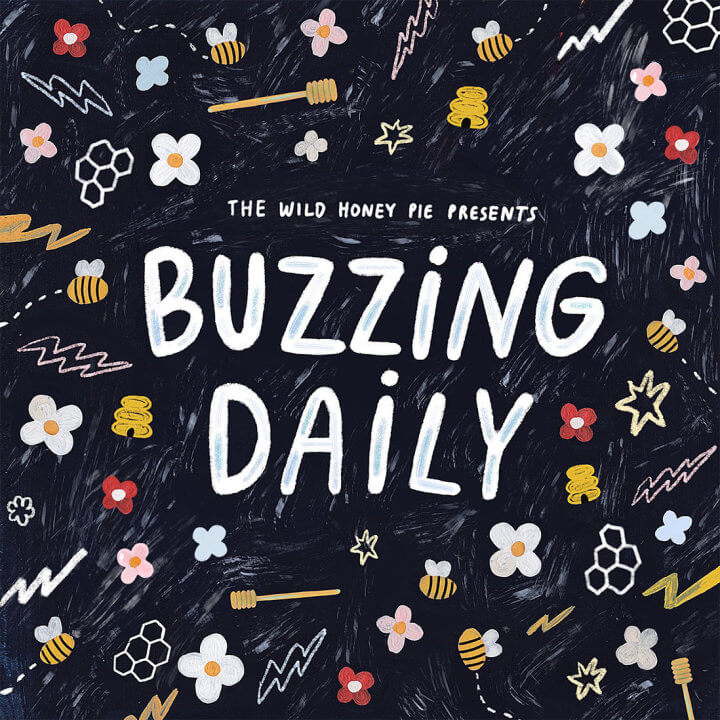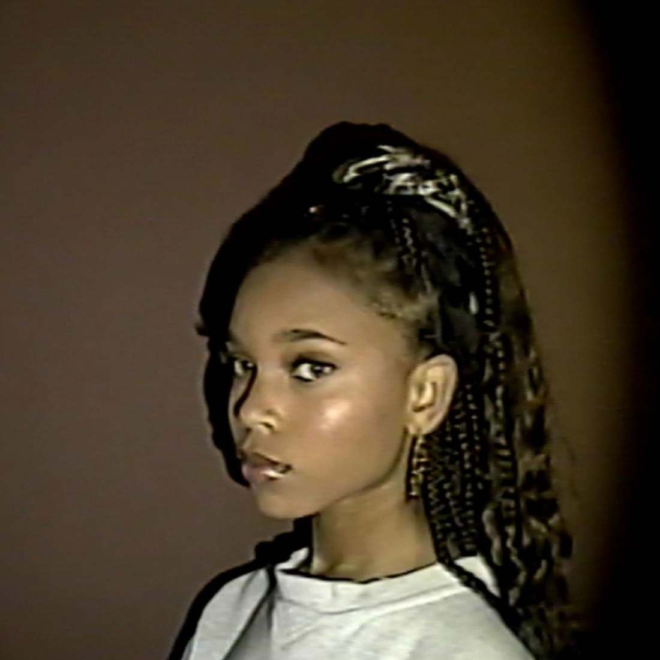 Amaria - Twilight
---
On "Twilight," Tampa singer-songwriter Amaria takes an evening drift, on a vast and slow-bobbing wave of a groove, out to sea and back again. Just like with water and sky at night, the boundaries begin to feel blurred. In a liminal space like this, endings cease to exist. The day isn't ending—the sun is taking reprieve. Or, in the case of "Twilight," a relationship isn't ending—it's blurring into something new. There is a powerful human instinct to hold onto hope amongst confusion, and this isn't the first song that's been written about wanting bae to "fight through" to the other side of turmoil. But even beyond the lyrical themes, there is something timeless about the track's vibe that's hard to put your finger on. I swear I've heard Amaria's subtle, smoky vocal runs before. Or is there a time machine somewhere in the snares? I close my eyes and keep looking.
—
Karl Snyder
on June 12, 2020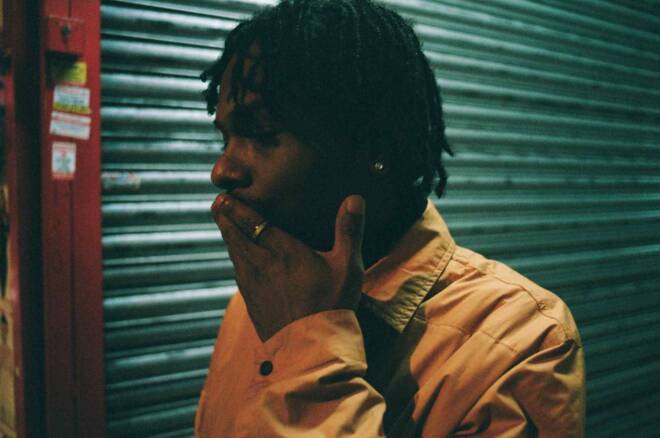 BERWYN - GLORY
---
On his striking debut single "GLORY," BERWYN folds into the shadowy depths of his mind and emerges with challenging memories, paradoxical truths, and magnificent hope. His calm spoken-word delivery and plaintive, woozy piano riffs are put together with such poise that you might not notice what's happening at first. That almost silent crackle is the building of potential. What we know about the human heart is that it has openings, and that they are generally kept small to block the difficult things from entering. Perhaps, like me, today, you could feel that familiar shape in your chest before you heard "GLORY." But now, since you pressed play, the openings have likely been unlatched: as much by the static energy of minimalist piano as by the earnest sharing of truth. And once the sung chorus comes in—"tastes like"—"tastes like"—"gloooryy"—I hope it swoops into your heart, like mine, inconspicuously, and resets something you didn't know was buzzing for attention.
—
Karl Snyder
on June 11, 2020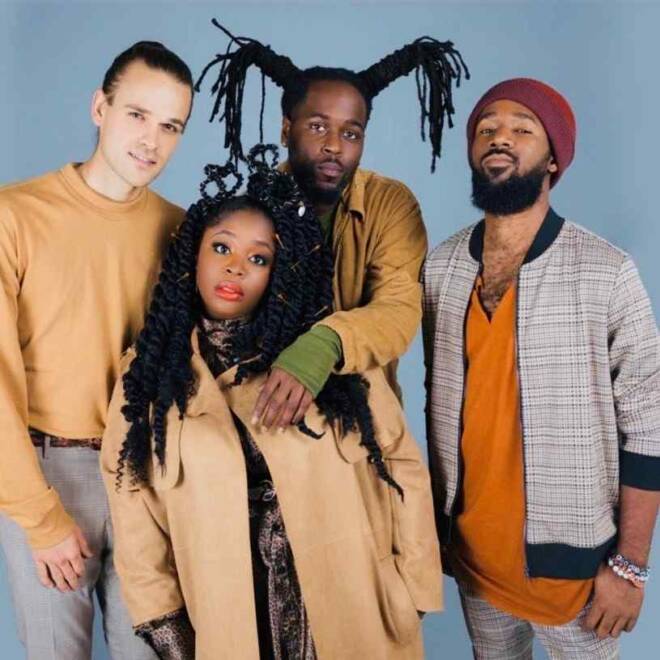 Tank and the Bangas - For André
---
For us mere mortals, it's often satisfying to watch celebrities become starstruck over other celebrities. Remember Jennifer Lawrence's not-so-subtle flirtations with Jack Nicholson on the red carpet before the 2013 Oscars? YouTube gold. Since exploding onto the national scene after winning NPR's Tiny Desk Contest in 2017, Tank and the Bangas have rightfully earned their own superstar status. The New Orleans-based, GRAMMY-nominated group's imaginative arrangements span multiple genres and have garnered widespread attention and respect. That's why the band's homage to André 3000, "For André," is so delightful. 
Long-time fan and powerhouse front vocalist, Tarriona "Tank" Ball and her bandmates wrote this song as a birthday gift to the iconic, influential artist. Ball, a gifted lyricist who has all the makings of becoming an international sensation all her own, uses her voice both as a powerful storytelling vehicle and musical instrument. In the song, she skillfully juxtaposes the two distinct mindsets of the protagonist. The rhythmic vocal melody in the verses depicts a starry-eyed fan's excitable thoughts as she navigates through the crowd at an Outkast concert, hoping to meet her idol backstage. While pushing her way through "All these phony people / girls wanna get at you," she drifts in and out of a dream-like state, as captured by the legato, melodic nature of the choruses. Her daydreams become a concert goer's ultimate goal: to marry her celebrity crush. The only thing that would make this feel-good saga more satisfying would be to see André's response to this lighthearted tribute. Someday, most certainly, some rising star will write their own homage, "For Tank."
—
Karyna Micaela
on June 11, 2020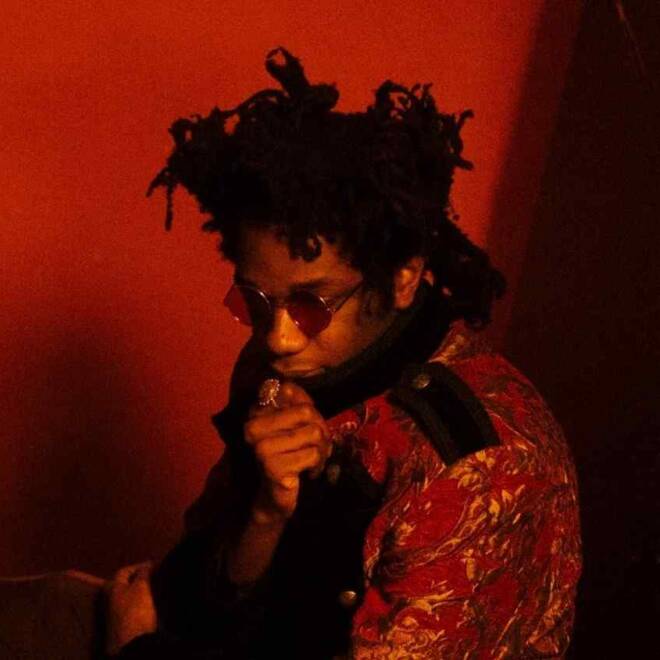 L.A. Salami - The Cage
---
UK singer and songwriter L.A. Salami is a witty, insightful lyricist and an artist with considerable genre-blending range. His musical roots are in the folk singer-songwriter tradition; Bob Dylan was an early influence and role model. He has since delved into blues-rock and hip-hop, always driven by storytelling and perceptive social commentary. With "The Cage," L.A. Salami delivers a timely meditation on race and politics, surveying the injustices and confines of our systems and societies. Over a hypnotic groove, he raps, "capitalism's on its knees telling math jokes" and mentions "seeing race wars rage live on Facetime." This is not acoustic troubadour folk music (which L.A. Salami also does quite well), but with its finger firmly on the pulse and its lyrics a mirror to our world, it is every bit a folk song. It's also an example of some of L.A. Salami's most inventive production choices yet and suggests an exciting direction for his upcoming album, The Cause of Doubt & a Reason to Have Faith, set for release on July 17. In challenging moments like this one, some artists just know what to say—L.A. Salami is one such artist, and we are lucky to listen.
—
Siena Ballotta Garman
on June 11, 2020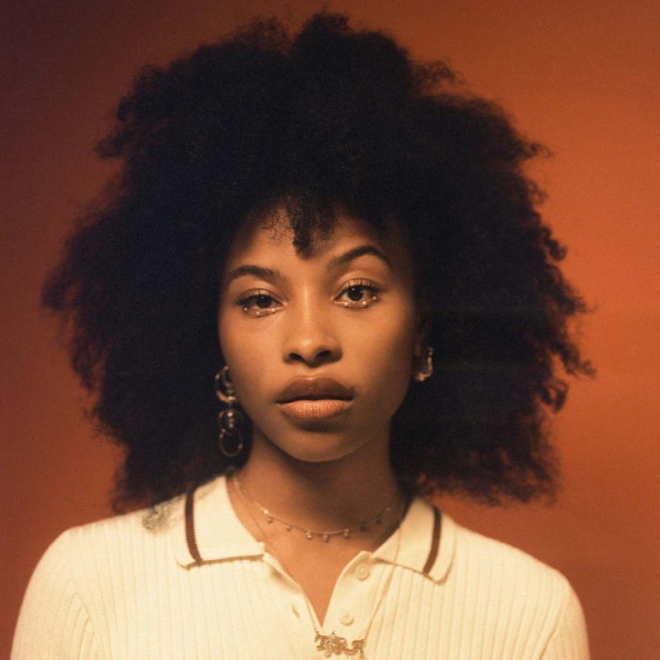 Tora - Call Your Name
---
Last week, I went ambling through a local greenhouse that was filled with sprawling green life and blooming magenta—a stagnant man-made forest beneath the great gray towering storm clouds on the horizon. The electricity of the summer air gave teeth to the moment, with the downpour biting at the glass roof and the contrast of the looming darkness bringing the garden's string lights and other orange-glowing oddities into stark view; one of them was a gleaming apartment window, with a family inside watching television. Immediately my mind wandered to curiosity about the family, and the hundreds of stories that play out every day in each apartment window, floating several floors about the earth. I was jolted back to this feeling upon hearing the first few notes from UK-based Tora's third single, "Call Your Name." 
The track begins with blazing saxophone—notes that welcome us into a golden world of her creation, a world that transcends any one genre while asking us to question the assumptions we make about the people in it and ourselves, and to demand better than what we presently see. Tora's Instagram bio reads "empathy with a sharp tongue," a crucial doctrine that shines through in her sonic creation, reminding us that while we care for the world and those around us, we can still demand respect for ourselves and our place within it. The steadiness of the kick drum and her candor, matched with her crushed-velvet croon, draws us in with lines like "don't take this worn defense of mine and call it broken" and "they don't write stories 'bout women like me." A powerful reminder that no matter what stories we may think play out in those cubed dwellings suspended overhead, we have no idea—and that many of the stories that still need to be told have never seen the light of day. As citizens and neighbors in this world, and as consumers of music and art, we must be unrelenting in making sure they are heard; in carving our place together.
—
Heddy Edwards
on June 10, 2020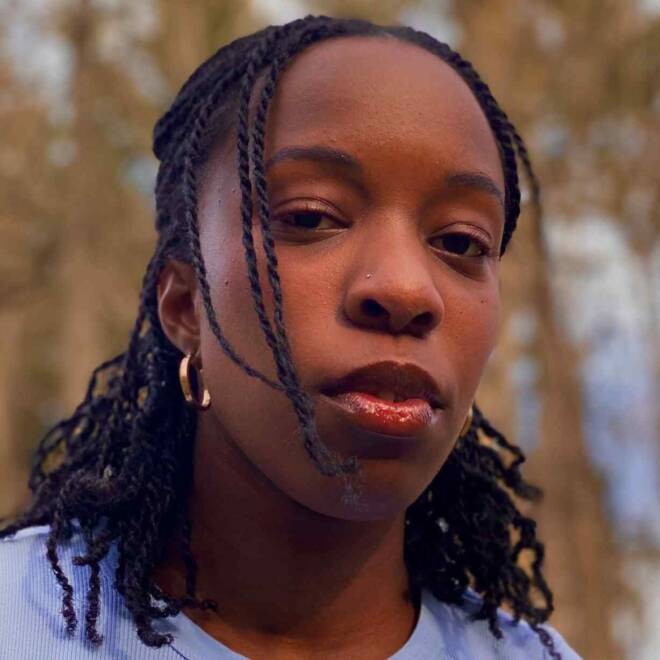 Halima - Wake Up!
---
"I'm sorry if this bumps / Can't be mad I dropped another one" is what Halima says to an ex—and we are not mad about it at all. "Wake Up!" is genre-bending pop/r&b artist Halima's newest single, full of intense, commanding lyrics with a seemingly effortless delivery. Her voice cuts through her lyrics like butter, but her words are in no way commonplace or lukewarm. "I was too woman, you ain't enough man" comes right before "Imma choose myself in love," which is Halima choosing her own personhood and her art above anyone who has not yet awoken to her talent and heart. Our society is inundated with deep injustice towards black people, and waking up those who have not already realized that is not just what should happen, but what is necessary. Sales from "Wake Up!" for the first month are being donated to Campaign Zero, Reclaim The Block and the NAACP.
—
Elizabeth Shaffer
on June 10, 2020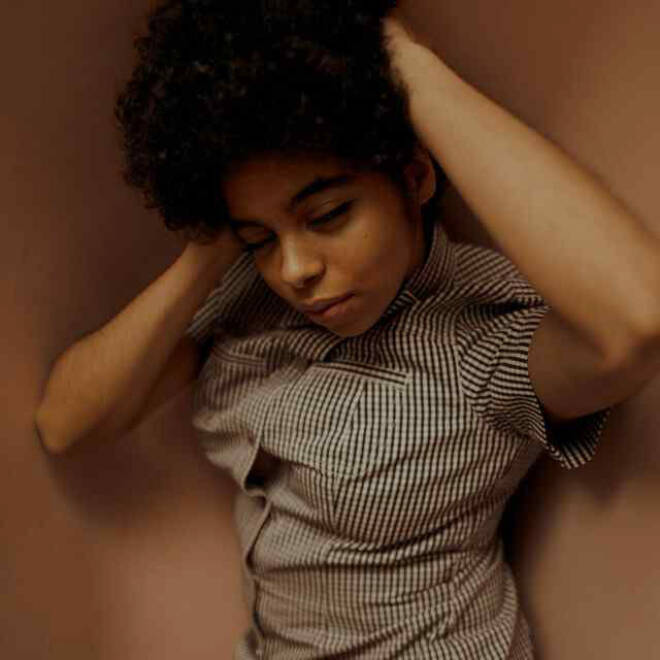 duendita - yaya my favorite
---
The latest from NY-based soul singer duendita feels like a daydream, hazy and atmospheric, and lasts just as quickly as one. Clocking in under two minutes, "yaya my favorite" is a brief showcase of everything that makes a duendita song a near-spiritual experience. As the balmy instrumental runs its course, the singer's acrobatic voice wanders, at times seeming to almost fuse as one with the carefree ambience supporting it. Nonetheless, she still manages to evoke reveries of summer loves and loves lost by atmosphere alone. One can't help but feel a deep sense of wonder as her soaring wails and deep moans fade lovesick lyrics in and out from coherency, creating an energy that encourages listeners to follow suit and fade into a daydream themselves.
—
Jonah Minnihan
on June 10, 2020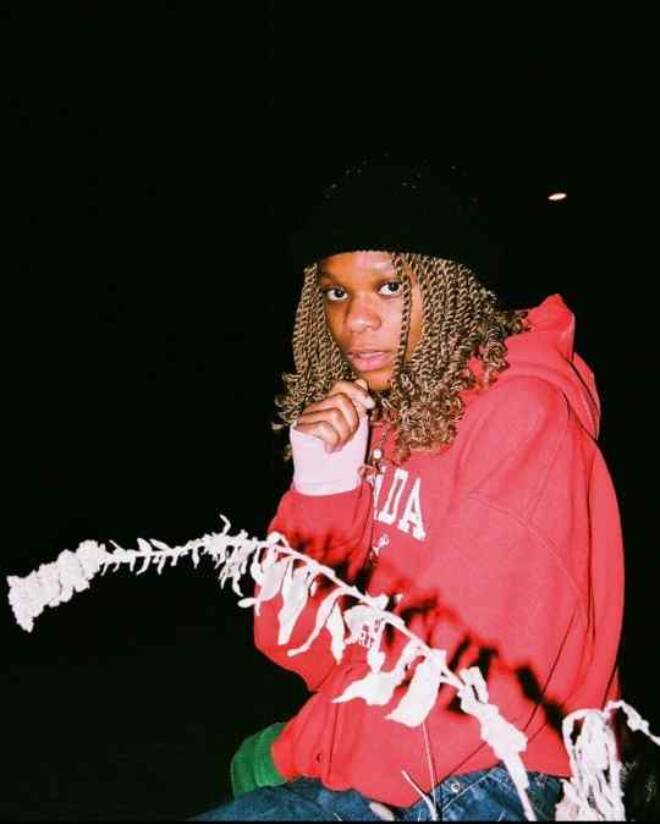 Serena Isioma - Hard
---
I come home to the walls of my room painted in rich lavender. Like a loved lilac, I could bloom here after being watered all day. Why do I move, why do I dance when I am feeling low? I don't know, but the colors wake me up. I'm alone in my room, let alone my house. My parents must be at work late. With life to myself, I stand on my bed and sing at the top of my lungs into a hairbrush. I watch myself go in my mirror. My hair's in my eyes, and my heart's in my throat. I wonder how much my throat would burn if it was possible to throw it up. I wonder if it was possible to grow another heart like a strand of hair, would I choose to? I wonder if I could sing along to Serena Isioma's "Hard" and be heartless. I'm still wondering.
—
Mustafa Abubaker
on June 9, 2020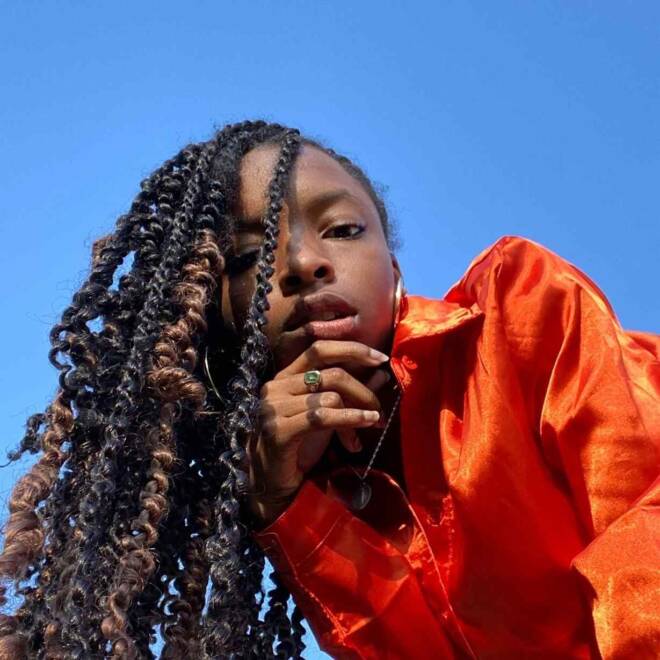 Dana McCoy - Broken Boy
---
It doesn't take long to realize that Dana McCoy has her foot on the gas at the beginning of her new single "Broken Boy." Don't let the track's midtempo melody and McCoy's luscious vocals fool you; her message is anything but subtle. 
McCoy's gentle demeanor still demands both the listener's and the 'broken boy's' attention. McCoy begins letting the subject know she sees him for all he is, and she's no longer going to put up with the noise he's inflicted on her life. However, "Broken Boy" isn't your typical break-up song relying on a laundry list of the subject's faults. McCoy throws a curveball simply by practicing a little bit of empathy. She stands her ground while reassuring him "I see myself in your pain / but I won't be treated this way." 
In an atypical fashion for a break-up song, McCoy prioritizes her self-importance—refusing to lose even an ounce of self-confidence in three and a half minutes. Her determination to keep herself intact (and 'whole' if you will) also allows room for McCoy's heart to come through when she acknowledges she understands this boy has been through it all. That being said, McCoy knows she has to throw on her metaphorical lifejacket first because some relationships are doomed to remain broken: no matter how far an olive branch is extended.
"Broken Boy" is now available via Liftoff Records.
—
Taylor Hodgkins
on June 9, 2020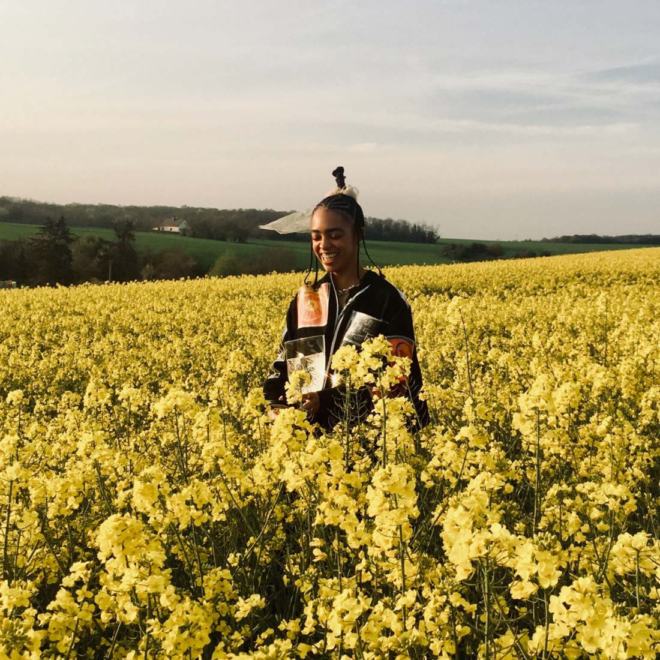 Kelsey Lu - Morning Dew
---
Kelsey Lu roots herself within the delicate tendrils of nature in her new single, "Morning Dew." The track emerges with wistful pickings of guitar and deep, meditative saxophone tones—reminiscent of an awakening sun that gently disturbs the horizon and gradually rises over glistening meadows. The saxophone is played by Onyx Collective's Isaiah Barr, and it re-enters with a fluttering grace midway through, further emulating the sun's rippling rays, cradling all in its embrace. 
Spurred by heartbreak, the track grieves for a home found in another, as Lu sings, "Bring me home / back to you / wash off the old / put on the new." While Lu grapples with the notion of a home, she communes with nature as a source of renewal. In an Instagram post detailing the song's origins, Lu writes, "I'm relieved to feel like I've found a Home within myself enough to connect to the universe on a deeper level than when I first wrote it, and I invite you to feel that and get lost in it as well." "Morning Dew" is a true cleanse to the system, of which you may surely lose yourself in its tender solace. Take this offering with care, and enjoy.
—
Katya Myasnikova
on June 9, 2020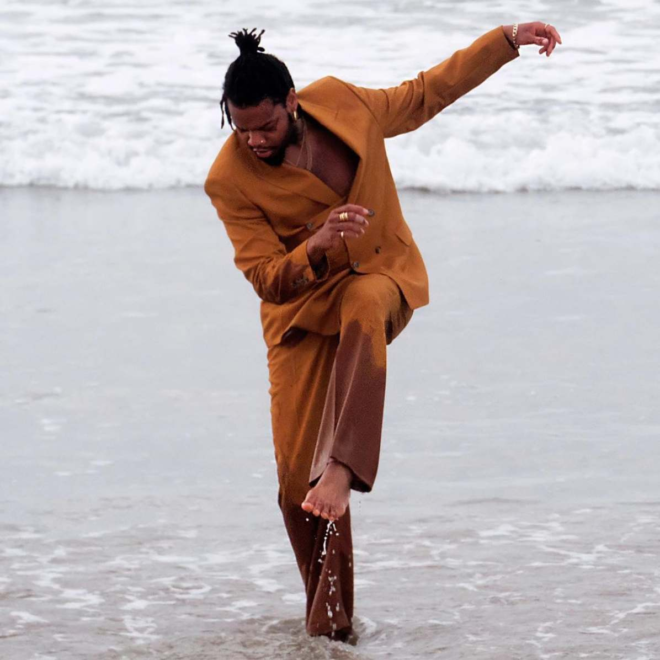 serpentwithfeet - A Comma
---
"A Comma," the first single from Brooklyn-based serpentwithfeet's three-song EP Apparition, is a flowing, triumphant rumination on the turbulence that we find ourselves living through today—and the psychological toll that comes with carrying on during these unprecedented times. Following an attention-grabbing baroque-inspired piano line, the artist born Josiah Wise begins to sing about the pain and confusion that repressing his emotions has caused him. Just when it seems as though the song is heading in a darker direction, however, Wise provides us with a glimmer of hope, stating "I'm struggling to find a way / One day soon I'll find my place / Life's gotta get easier." His warm, velvety vocals come straight from the heart—when he asserts that "Life's gotta get easier," you can't help but believe him. 
As an outspoken advocate for the Black Lives Matter movement who regularly condemns police brutality and racism via Instagram, Wise is an artist who recognizes the duty that he has to use his platform for good. His music enriches and inspires. The title of the song, "A Comma," is taken directly from the first line of the second verse: "I pray for punctuation / Lord, be a comma / Or better karma / Or a sweeter situation." He seems to be saying that though the world seems to be in constant turmoil right now, these times are not the period concluding the sentence of our nation. They are a comma—we will educate ourselves, learn, and improve—and life will get easier. Listen to "A Comma" wherever you stream.
—
Paige Shannon
on June 8, 2020