Top 30 Albums of 2017
Updated by The Wild Honey Pie on January 4, 2018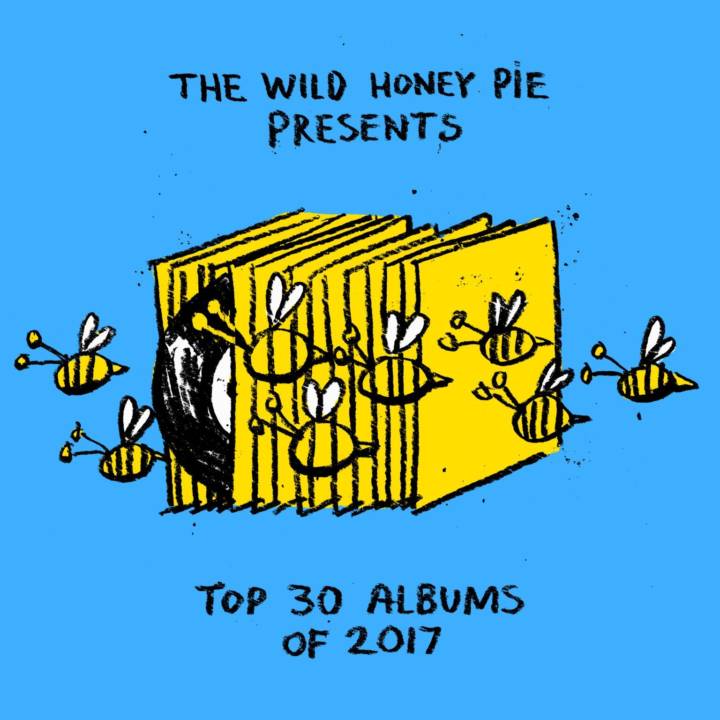 Gathering our favorite albums of the year is always such a challenge. 2017 was a year where our society may have taken a few steps backwards – exclusionary politics threatened personal freedoms and made some of us feel unwelcome within our own homes. It was 2017's music – a combination of bright newcomers and longtime favorites – that kept us going forward. Moses Sumney made his eclectic debut with Aromanticism, a genre-defying collection of strummed guitars, twisting synth lines and buzzing harmonies. St. Vincent reworked her labyrinthine tendencies into chrome-clad future pop and Julien Baker exposed the darkest shadows of her psyche to give us all appreciation for every beam of light. Meanwhile, Kendrick Lamar and Bjork invited us into their unique and awe-inspiring worlds. 
And though this pursuit was a challenge, looking back on this year's music has been quite therapeutic for us. The Wild Honey Pie has come together to list the albums that allowed us to escape to places where each one of us felt welcome and understood. There's no theme to this year's list, but our top albums do have one thing in common: in their own special way, each of these artists broke down boundaries to remind us that we are all more similar than we might think. 
We'd like to invite you into some of these places, where we hope you'll feel welcome, too. These are our favorite albums of 2017, with illustration by the wonderful Ryan Gillett. 

30. (Sandy) Alex G. - Rocket
29. Tyler, The Creator - Flower Boy
28. Jessie Ware - Glasshouse
27. Priests - Nothing Feels Natural
26. Jay Som - Everybody Works
25. Ryan Adams - Prisoner 
24. Perfume Genius - No Shape 
23. Slowdive - Slowdive 
22. Sylvan Esso - What Now
21. King Krule - The OOZ
20. LCD Soundsystem - American Dream
19. Julie Byrne - Not Even Happiness 
18. Vagabon - Infinite Worlds
17. Vince Staples - Big Fish Theory
16. Henry Jamison - The Wilds
15. Fleet Foxes - Crack-Up
14. HAIM - Something To Tell You
13. alt-J - Relaxer 
12. SZA - Ctrl
11. Cigarettes After Sex - Cigarettes After Sex
10. Mount Eerie - A Crow Looked At Me
9. Overcoats - YOUNG
8. Kendrick Lamar - DAMN.
7. Julien Baker - Turn Out The Lights
6. St. Vincent - MASSEDUCTION
5. Lorde - Melodrama
4. Bjork - Utopia
3. Phoebe Bridgers - Stranger In The Alps 
2. Moses Sumney - Aromanticism
1. Big Thief - Capacity