Top 30 Albums of 2016
Updated by The Wild Honey Pie on January 10, 2018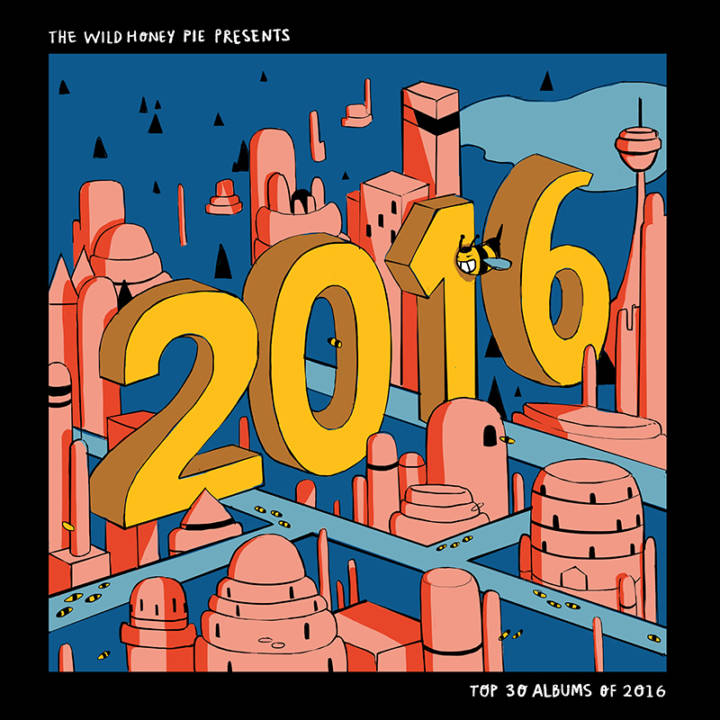 A lot of ink has been spilled over what a terrible year 2016 has been, and that pessimism runs deep and infects everything. With the onslaught of death, division and desolation — especially at the end of the year — even the most mundane tasks take on an air of nihilism. So we walked into the list making process wondering, would we even make it to 30 albums?  After so many years of incredible music did we finally reach the drought that infected so much else this year. Turns out, there's still hope.
2016 didn't have much, but what it did have was exceptional art. It's a year that began with a moving David Bowie opus that's full meaning didn't take shape until weeks later, when he left us with a gaping hole. It's a year where some of the best selling albums were also some of the most sonically interesting, and fittingly, it was a year full of moving and cathartic music. 2016 may have given us deaths of icons and the rise of a tyrant, but it also gave us works of empathy and pathos.
We tried our best to do justice to the incredible music that was created this year, and we know that some favorites didn't made the list. For us, these 30 records brought some much needed sweetness to our ears — they were the ones that we hit replay on over and over, sometimes to the point of utter exhaustion. Thanks to Suejee Lee for creating the beautiful artwork for this playlist.
30. Leonard Cohen – You Want It Darker
29. Chairlift - Moth
28. Goat - Requiem
27. Margaret Glaspy - Emotions And Math
26. Conor Oberst - Ruminations
25. Sad13 - Slugger
24. Solange - A Seat at the Table
23. Danny Brown - Atrocity Exhibition
22. Nick Cave & The Bad Seeds - Skeleton Tree
21. Parquet Courts - Human Performance
20. Japanese Breakfast - Psychopomp
19. Frank Ocean - Blonde
18. James Blake - The Colour In Anything
17. A Tribe Called Quest - We got it from Here...Thank You 4 Your service
16. Andy Shauf - The Party
15. Radiohead - A Moon Shaped Pool
14. Nicholas Jaar - Sirens
13. Bon Iver - 22, A Million
12. Drake - Views
11. How To Dress Well - Care
10. Whitney - Light Upon the Lake
9. Mitski - Puberty 2
8. Flume - Skin
7. Blood Orange - Freetown Sound
6. Frankie Cosmos - Next Thing
5. Kyle Morton - What Will Destroy You
4. Angel Olsen - MY WOMAN
3. Chance The Rapper - Coloring Book
2. Big Thief - Masterpiece
1. David Bowie - Blackstar